REGIONAL – Looking for a fun night and a chance to help neighbors suffering from cancer? 
You still have time to buy tickets to the 12th Comedy Night, sponsored by Solace for Stephanie. It will be held at 6:30 p.m., Saturday, Aug. 13 at the Topsfield Fair. Tickets are $60 and can be purchased online at info@solaceforstephanie.org. 
Named for Stephanie Jenkins, a popular hairdresser here, the organization last raised money at its Comedy Night in November of 2019. Throughout the last two and a half years, the group has helped more than a dozen people with gift cards for food and gas, their prescriptions and even massages and physical therapy.
"We have a great following," said Mary Ann (Mo) Levasseur, Stephanie's friend, who works closely with Stephanie's husband, Ron, her brother, Dominic, and her sons, Steven, Dan and Kyle Jenkins to manage the philanthropic organization.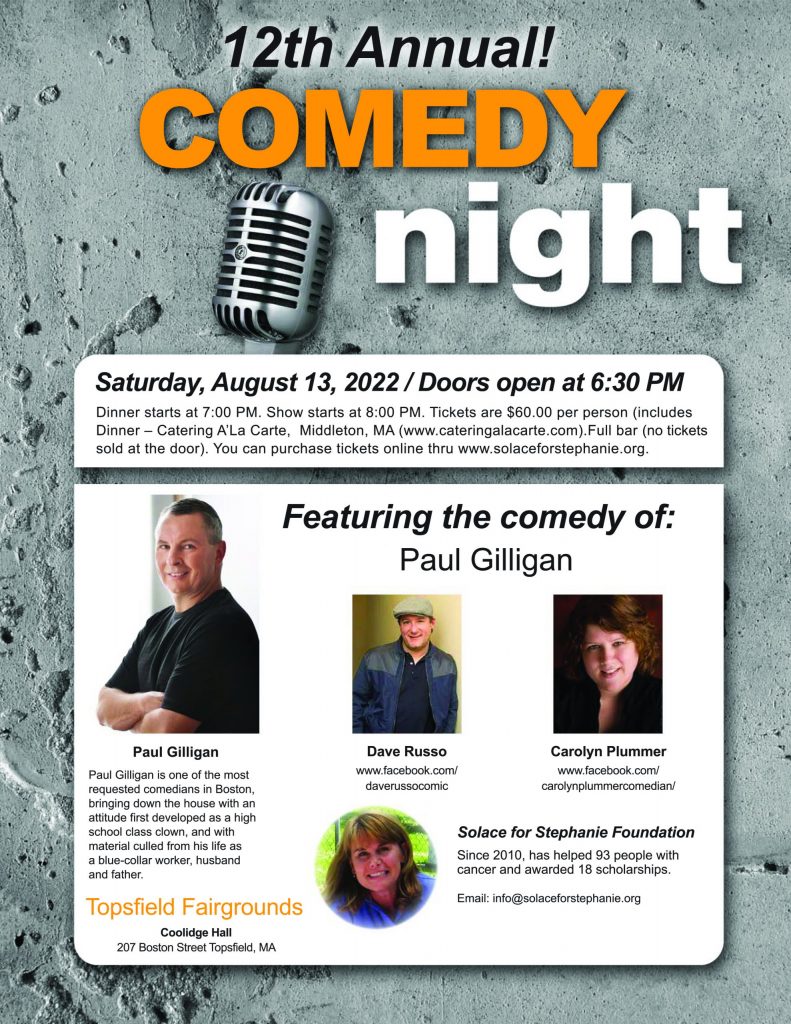 "Stephanie was a wonderful, caring person who gave unconditionally. She loved the community, sports, and her family and friends. When Stephanie passed away, I felt our community needed to remember her. Rowley was where she grew up, attended school, married, raised her family, operated a business, and formed lasting friendships. By giving back to the community, she was part of making Rowley a better place to live," Levasseur wrote on www.solaceforstephanie.org.
Since Solace was founded in 2010, the group has helped almost 100 cancer patients that find themselves struggling to meet the increased costs of the disease at the same time many suffer a loss of income. 
Donations from Solace also reduce some of the stress that the patients and their family feel, she said.
The group has also awarded 17 scholarships and built a playground in Eiras Park. The playground was funded in partnership with a foundation created to honor Danielle Yajgian, another young mother who died of cancer. 
That playground is now being brought up to code by the Town of Rowley. 
The Comedy Night will be held at Coolidge Hall on the Topsfield Fairgrounds. It will feature Paul Gillian, a Boston comedian who has been a regular at Solace Comedy Nights. Joining him will be fellow comedians Dave Russo and Carolyn Plummer. 
The event will be catered by the popular former Middleton Police Chief James DiGianvittorio, known as Chief DiGi and his Catering A La Carte.
"Make us your favorite charity," Levasseur said. "It will start a chain reaction."
Solace is a 501c Charitable organization, which makes any donation a tax deduction. To donate to Solace for Stephanie, visit www.solaceforstephanie.org.