Seated behind the controls in his Byfield recording studio, EJ Ouellette will tell you he's an entrepreneur.
But make no mistake about it, as he turns up the volume on his latest collaboration with Tomika Dixon (granddaughter of Ouellette's hero, blues legend Willie Dixon, by the way) every business venture he has a hand in is deeply tuned in to his immense love and commitment to the music.
EJ Ouellette's Whole Music, which he runs out of his Byfield home and studio, is an expansive music studio and virtual music academy. When it comes to music, Ouellette has pretty much done it all over the past half century.
"I've been here for 25 years, and I've been a producer for 40 years," said Ouellette as he mixed a song from files sent to him by a Newburyport musician. "I'm a teacher and I have a virtual academy, so when I get tired of producing, I go out and get some more students."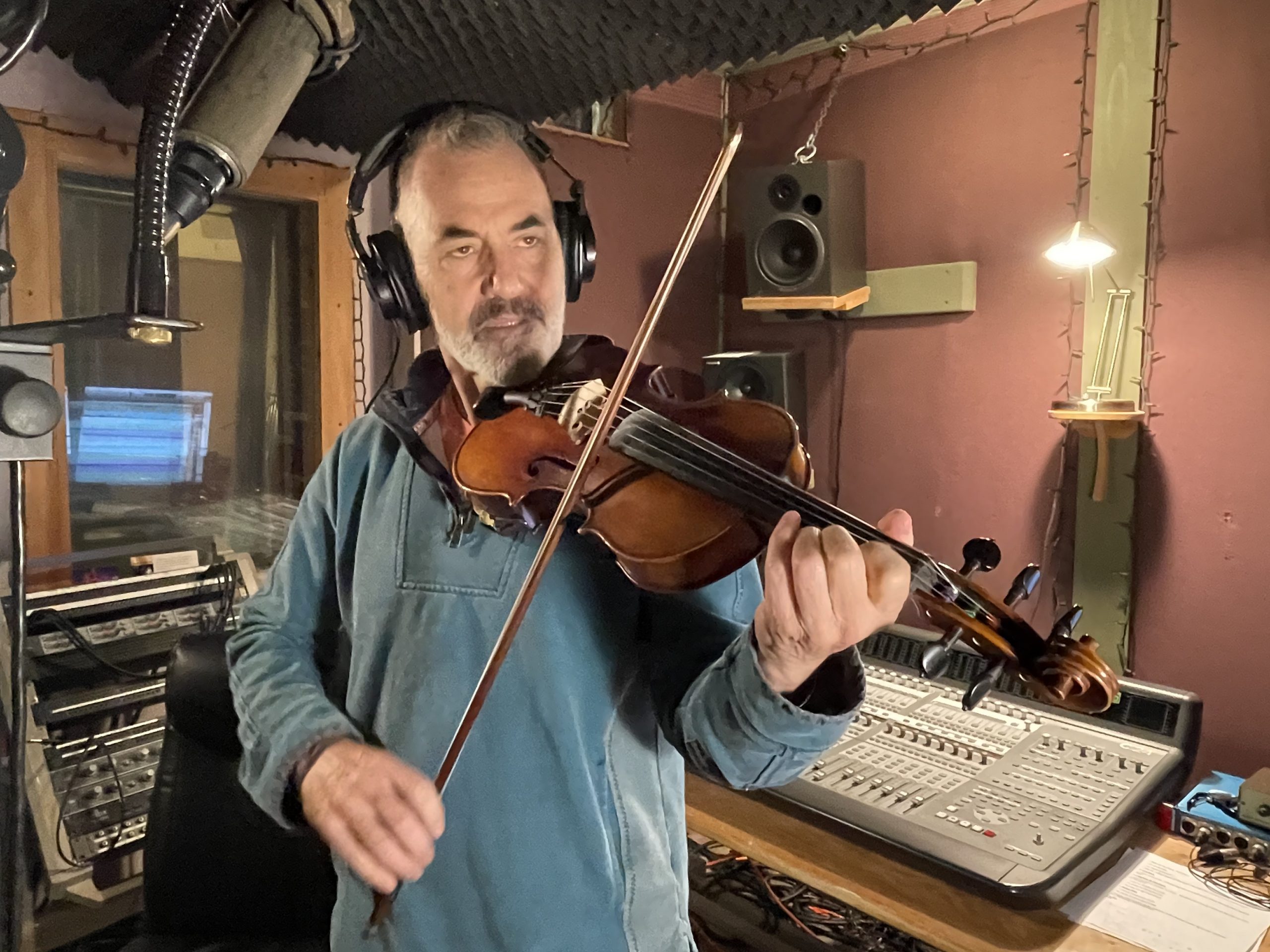 Ouellette's own musical journey began in the 1960s in the Merrimack Valley, when his grandmother bought him his first guitar. It was the beginning of a journey that would see him touring the nation, building music studios in Africa, learning to play 14 instruments, and recording albums with his own band, EJ Ouellette and Crazy Maggy.
"I'm the oldest of 10, so I was pretty much on my own, and my school work wasn't very good, but I loved music," Ouellette said. "When I was eight years old, my grandmother bought me a guitar and music lessons; she saved my life."
Ouellette started taking lessons, learning Beatles songs, and soon after, he discovered Willie Dixon and the magic of blues music. There has been a guitar (or a fiddle, or a mandolin) in his hands pretty much ever since.
"At 12, I had a band and I was getting paid to play gigs, Sweet 16 parties, graduation parties," he said. "I wasn't a very good student, but in the eighth grade, I was asked to play at the talent show by one of my friends, and I was really nervous, and I played and sang a song, and I tore the house apart. I knew right then, this is what I wanted."
The music and the gigs continued through high school and college in the 1970s.
"I got a job in a band in 1978 named Next Stop, West and the band took off," said Ouellette. "It was a Texas swing band and we were playing throughout the whole Northeast and up through Canada. It was very successful for a couple of years, and when that band broke up in 1979, that's when I started and got my studio."
Since opening that first studio with a four-track recorder in Amesbury, Ouellette has balanced a career of teaching, producing, performing, recording, and developing musical artists. Ouellette has operated several studios and music schools over the years before settling in his comfortable state-of-the-art facility in Byfield about a quarter of a century ago.
While other brick and mortar businesses were struggling to come to terms with new realities during the Covid-19 pandemic, Ouellette was ahead of the game, having taught remotely for over a decade.
"I've been teaching online because I travel, so when Covid came in, most of my students and clients were already online, because it's easier," he said. 
Within 10 days, Ouellette said he had his whole music academy, complete with 135 teachers, up and running online. Outside of the worries of a global pandemic, he said students get more musical value for their dollar when they take lessons online.
"It just takes too much time coming in and unloading, right, you're in here getting set up for your half hour lesson and you've already wasted 12 minutes right off the bat," Ouellette said.
With the online lessons, teachers can tape their students playing, show them what they are doing immediately, and even link to relevant videos and lessons.
The music academy isn't the only area where there's been a move to a virtual community. While Ouellette's own studio is top notch with immaculate acoustics, he said he spends a lot of time these days helping many of his clients set up their own home studios.
"I have a few people coming here that I'm producing, but other than that, what I'm doing now is I'm setting up clients' studios in their homes, so we send files back and forth," he said. "Now will they become producers? They might some day, but ideally, what they do, I'm the mothership."
When it comes to the backbeat on the mothership, Ouellette has a secret weapon.
"I use Dave Mattacks as a drummer, and percussion, and some keys," he said. "Dave Mattacks was Paul McCartney's drummer, and he recorded and toured with Roseanne Cash, Mary Chapin Carpenter, he recorded with Elton John last year."
Mattacks was also a member of the legendary English folk-rock band Fairport Convention alongside Sandy Denny and Richard Thompson.
With his own impressive resume, and some bigtime percussive backup, Ouellette does produce and work with his share of musical heavyweights, but he said his true passion is helping people develop as musical artists.
"A lot of my business is older folks, people who really wanted to do this but have put it off for family or other reasons," he said. "What I fundamentally do is develop artists. I do work with the pros, but my real love is developing people and bringing them to a new place with their music and giving them exposure.
"So I develop the music, sometimes I write songs with them, and I record for them and I put it together with Dave Mattacks, and then I also show them how to market it."
Some of the music he helps develop and record he releases on his own record label, which he's operated for 30 years.
There's little down time in the Whole Music world, and at 68, Ouellette seems like he's only speeding up, not slowing down.
Currently, he is at work on his latest album with EJ Ouellette and Crazy Maggy, thinking ahead to a live tour next year, and sending out packages hoping to get Grammy nominations for a number of songs by either himself or his students.
At the top of that list is the song Munjoy Hill, a collaboration with Tomika Dixon, granddaughter of Willie Dixon and a formidable blues force in her own right. Ouellette is hoping the song, steeped in the history of his French-Canadian and Acadian ancestors, nabs a nomination in the Best Regional Folk Song category.
Munjoy Hill relates the story of the northernmost point of the Underground Railroad in Maine, and how the slaves who made the way north intermingled with the immigrants who came to Maine from Ireland and Scotland.
"So I asked Tomiko Dixon … if she would be interested in this song, and I sent it to her, and she woke me up in the middle of the night, she was calling me, and she said, 'I have to do this song, I feel it in my body and this is a very important song for me,'" Ouellette said. "She's a star in her own right, and a wonderful human being, and really knowledgeable of the music business, and she agreed to do the feature in this. So she plays a ghost."
Even as Ouellette works on a screenplay based on Munjoy Hill that he hopes to see produced, the true musician comes out when he talks about his immediate goal for the music.
"I hope the song stays in your head for the rest of the day," he said.
Anyone interested in finding out more about EJ Ouellette's Whole Music can visit his website at wholemusic.com.