Mike Wilson ran all the way home to an excited crowd of supporters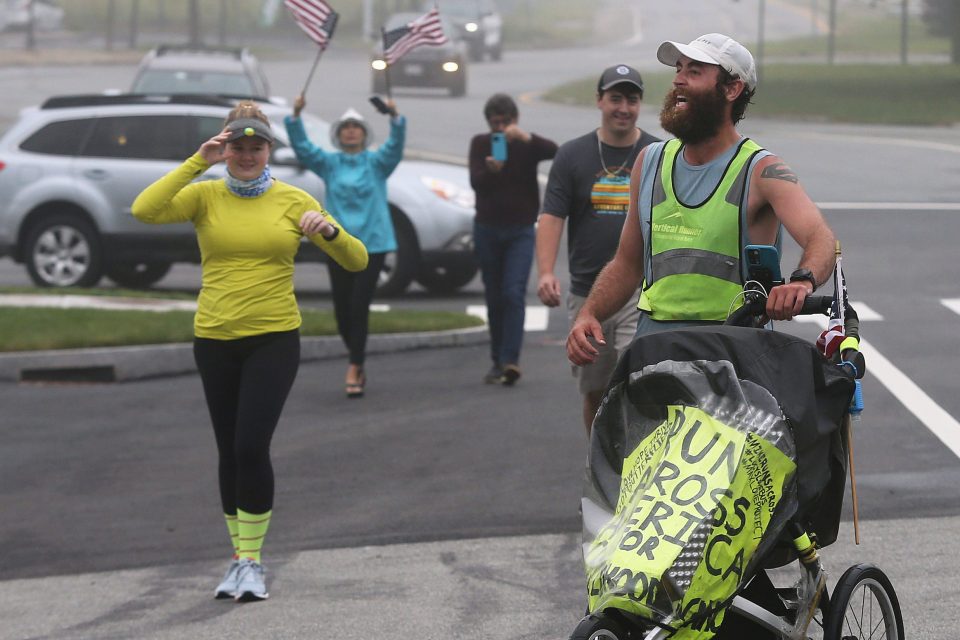 Mike Wilson arriving home. Photo credit: Libby O'Neill / The Town Common
NEWBURYPORT – After running alone for more than 3,000 miles from the west coast, braving extreme weather, packs of dogs and numerous flat tires on his running stroller, Mike Wilson arrived at 5:20 Sunday, Aug. 22 on the Merrimack River waterfront.
The Planet Fitness finish line was on the boardwalk as he ran the last 38 miles from Boston Common.
Mike ran cross country, starting on the Santa Monica pier in Los Angeles on May 1. His Herculean effort was to raise money for Lucy's Love Bus in Amesbury, an organization that provides care and comfort for cancer patients.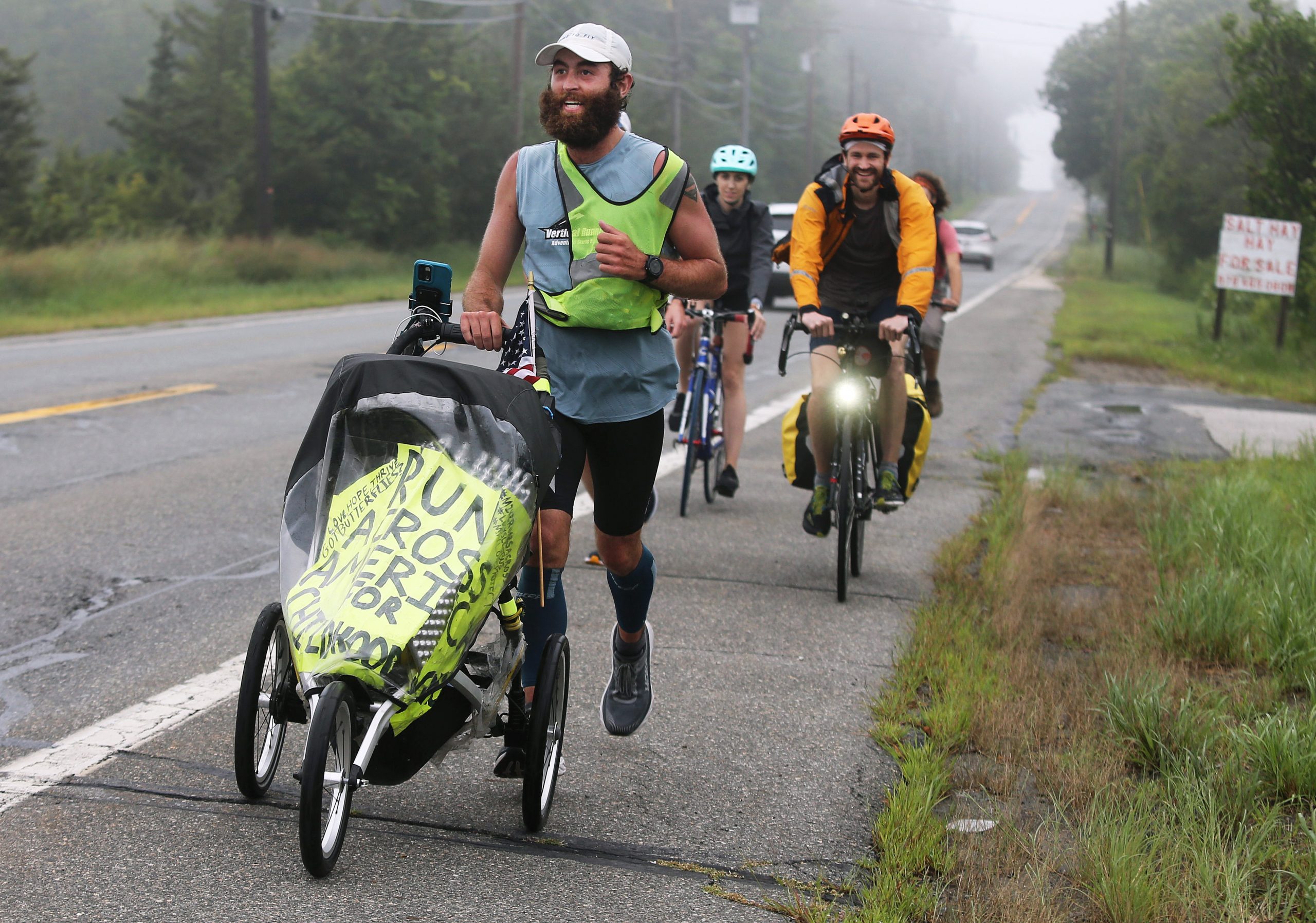 Mike Wilson arrived at 5:20 Sunday, Aug. 22 on the Merrimack River waterfront.
Photo credit: Libby O'Neill / The Town Common
Mike was greeted by more than 150 friends, family members, colleagues at Planet Fitness, Beecher Grogan, the founder of Lucy's Love Bus, friends who attended Triton Middle School with him, and many friends who followed him on Instagram.
"You'll never meet a more humble, caring person than Mike," said Grogan, executive director of Lucy's Love Bus. "This guy went through four months of hell for our kids."
Mike's effort, Grogan announced, raised at least $22,000, which will provide care and comfort for 22 children with cancer for a year.
But Mike's Run Across America meant much more to Lucy's Love Bus than the donations that poured in.
"He sacrificed for the kids every day," Grogan said. "He got up and kept going when he did not want to. The children knew he was suffering for them. And they knew he was suffering just like they do."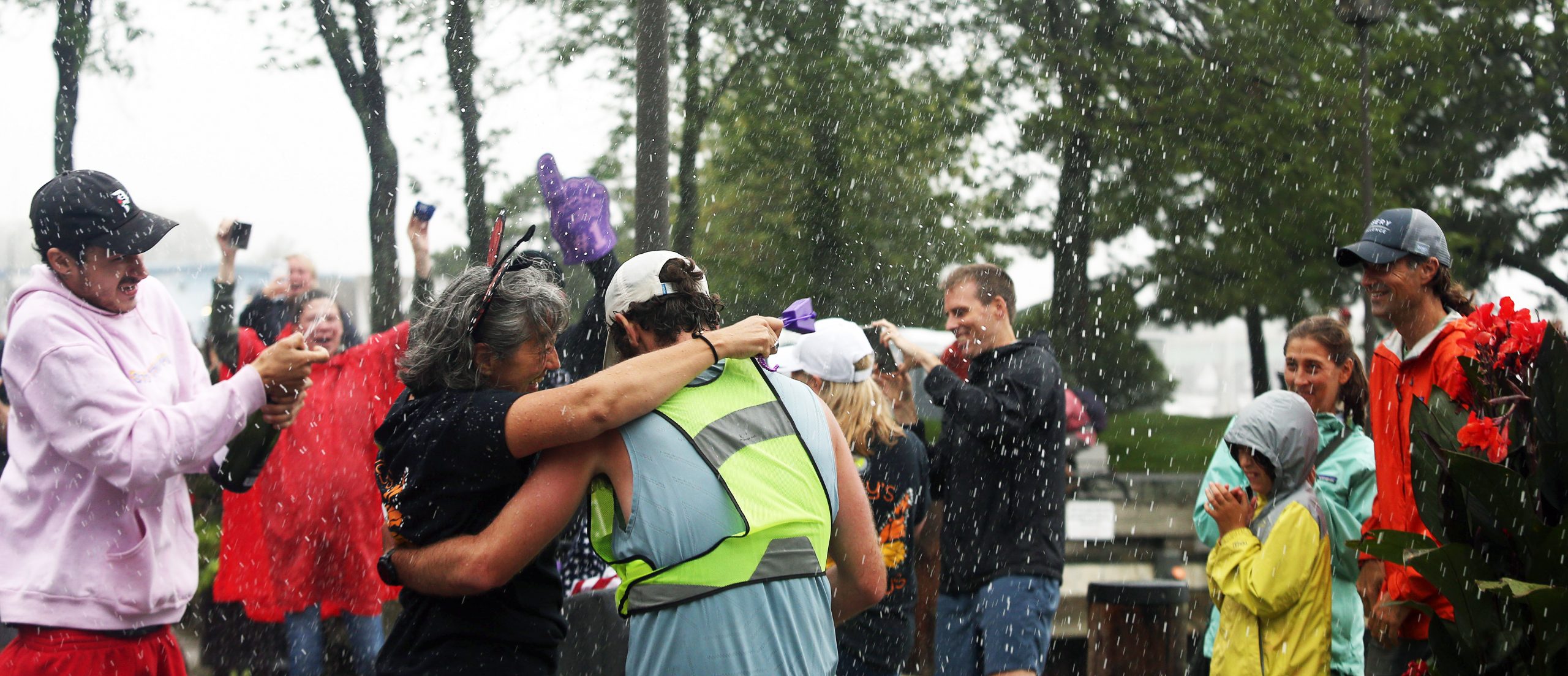 Mike Wilson celebrates his victory among family, friends, and supporters.
Photo credit: Libby O'Neill / The Town Common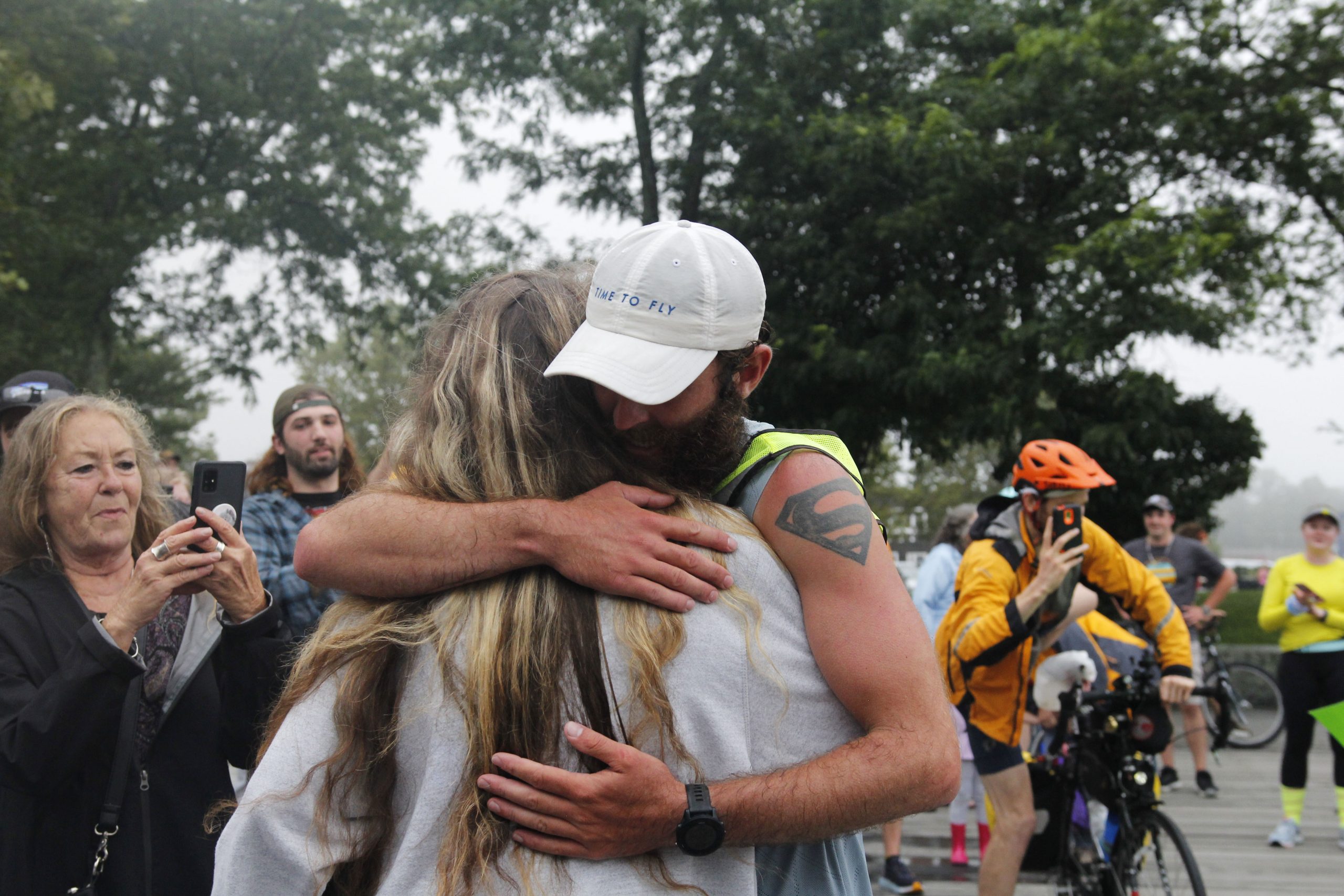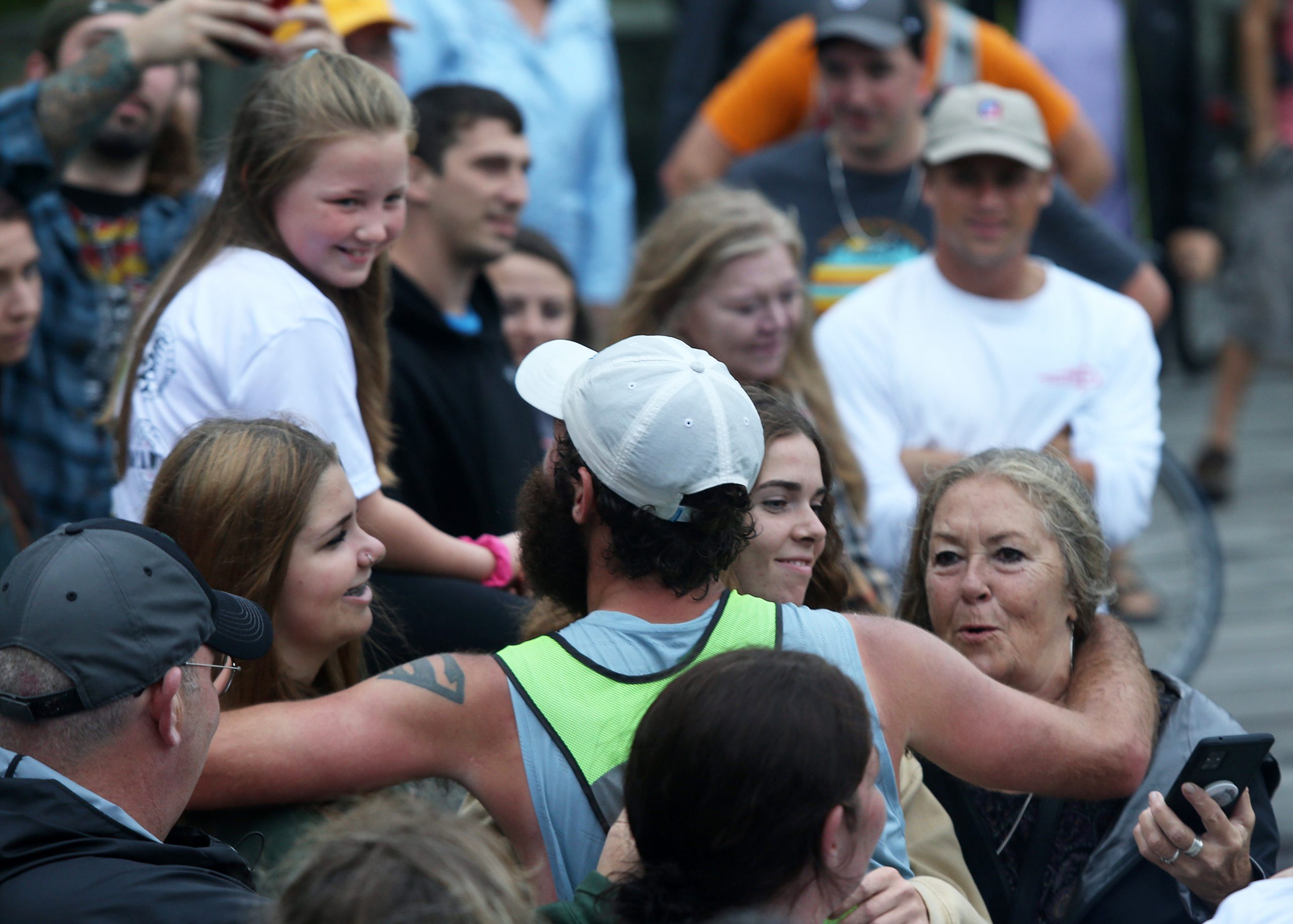 Mike Wilson shares an embrace moments after arriving at the port. 
Photo credit: Libby O'Neill / The Town Common
In turn, the Love Bus children were his inspiration. Knowing he was tired and lonely running by himself, the children sang to him on Instagram. They sang I'm Still Standing to keep up his spirits, Grogan said.
Mike learned about Lucy's Love Bus more than 10 years ago when his best friend's mother was dying of cancer. He volunteered to run the Appalachian Trail twice to raise money.
Grogan said she felt personally responsible for Mike every day as he ran across the country. "I'm so grateful he is home safe," she said.
The trip seemed destined to fail from the start. The car carrying his gear burned up on a Los Angeles freeway, delaying his start. He realized miles into the trip that running alone across the desert was not possible. He went north to Oregon by bus and crossed the Rocky Mountains on a northern route.
About 1,000 miles into the run, he felt he could not make it. But he got up and started running again the next morning, overcoming injuries and worn-out shoes.
As Mike ran down the Newburyport boardwalk, he was greeted with cheers, "Mike, you did it."
John Cody, his best friend, who met him in Boston Saturday night to welcome him home, popped a champagne cork and sprayed his friend as he crossed the finish line. At the sight of so many supporters, Mike broke into tears, pulling the brim of his hat over his face to hide his emotions.
"I missed you guys so much," he said. "Where's the party?" A friend brought him a tall Heineken as he tried to find the words to express his appreciation to the crowd.
Mike's historic journey was not quite over on Sunday. On Monday, Mike took off from Newburyport for a final "victory lap" to his hometown Planet Fitness club in Portsmouth, NH, where he was greeted by colleagues, gym members, and the team of Lucy's Love Bus with a celebration.
To support Lucy's Love Bus, visit give.lucyslovebus.org.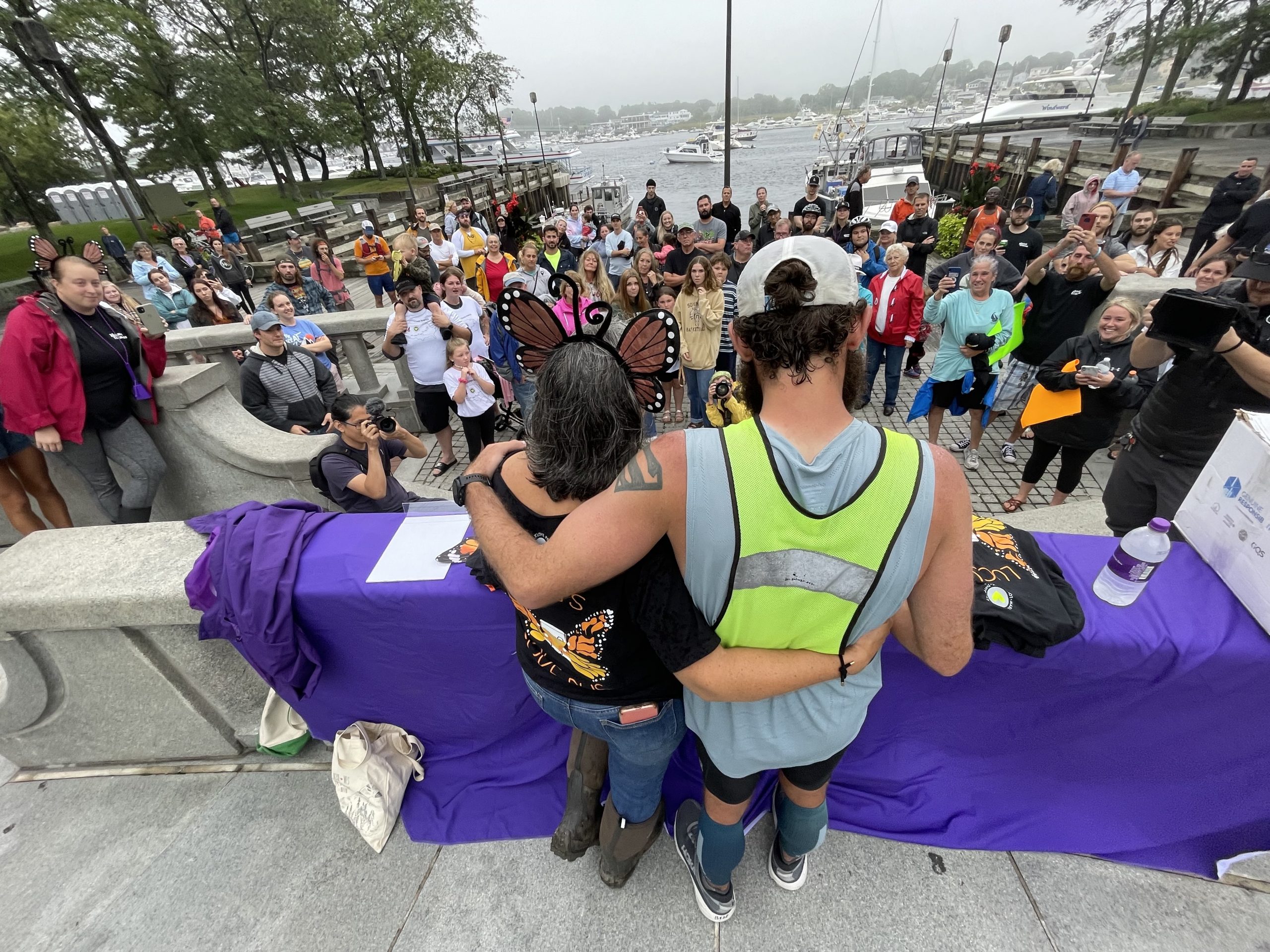 Mike Wilson takes in the energy from the crowd alongside Co-Founder and Executive Director of Lucy's Love Bus Beecher Grogan.
Photo credit: Libby O'Neill / The Town Common