NEWBURYPORT — Newburyport Art is pleased to present a new installation in the Range Lights Community Sculpture Garden. This exhibition boasts 10 artworks from seven artists and is nestled between the NAA's historic building and Newburyport's ever-bustling Rail Trail.The pieces will be on display from October 2022–September 2023. All are invited to join for its opening reception on Sunday, October 16th, from 2:00–4:00pm. 
Founded in 2016, Newburyport Art's Sculpture Garden is an intimate landscaped garden, where each year the NAA holds a regional juried call for sculptures. The garden is always open to the public, welcoming all and providing free and constant access to art. 
Seven artists—Eric Andersen, Jeffrey Briggs, Cassie Doyon, Joseph Ferguson, Rebecca McGee Tuck, Corinne McKeown, and Jason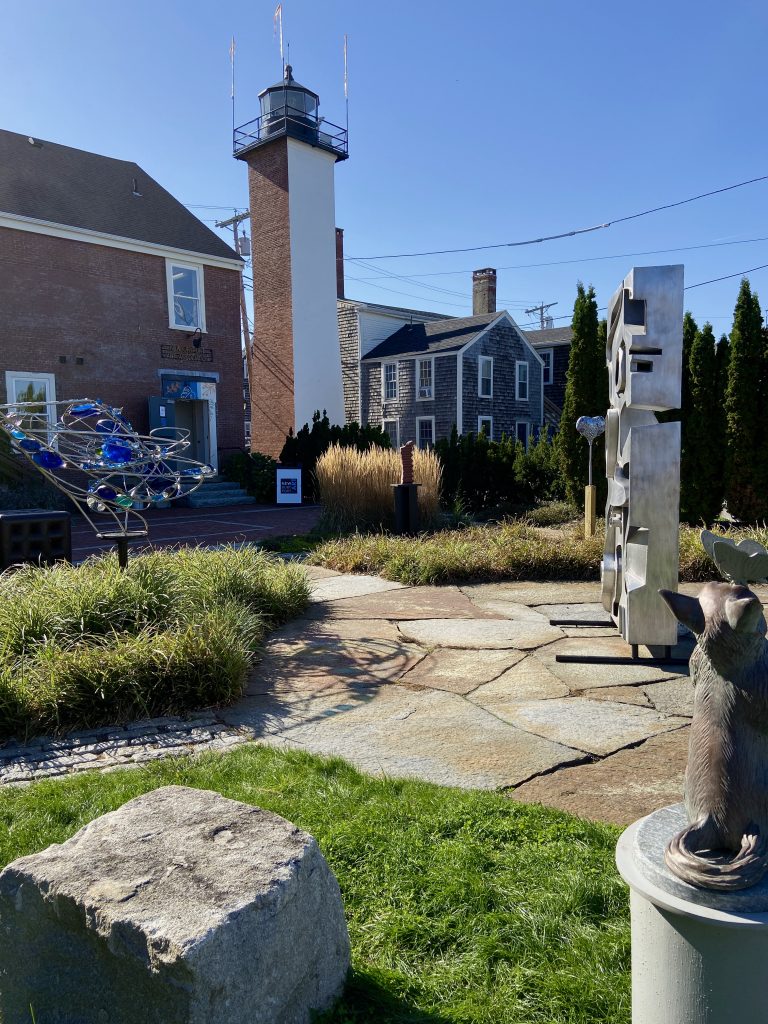 Rivard—comprise this year's exhibitor group. Corinne McKeown's sweet Bee Mine, a silver, shimmering, heart-shaped honeycomb dotted with bees, sits adjacent to Eric Andersen's bronze, geometric Interlocking Forms. Andersen's second piece, Soft Cube, sits diagonally across the garden from its companion. Jeffrey Briggs's playful sculpture, Monarch, features a friendly canine sitting atop his haunches as a butterfly lands on his nose. Nestled behind Monarch are the expressive triplet of faces that make up Rebecca McGee Tuck's Mare, Terra, Vento, an artistic response to the pandemic. Next to the triplets and shaded by pines sits Jason Rivard's winding and intricate Pathways, which he says was inspired by the natural beauty of New Mexico's Rowe Mesa. Rivard's second piece, Memory's Fable, sits in Pathways' line of sight, reminding us that while the minute details of our memories may change over the years, the associated emotions are evergreen. Standing tall above the garden's grasses is Joseph Ferguson's Singularity, which features a plethora of glass spheres surrounding a larger, central orb in a formation that is reminiscent of a solar system. Next to Singularity lies Reveal, an attempt by Cassie Doyon to showcase the human psyche. All six pieces surround Joseph Ferguson's Seven Stars, which stands 8 feet high and is created of metal and vibrant glass that manipulates the sun's rays as it moves across the sky. 
The Range Lights Community Sculpture Garden exhibition runs from September 2022 through September 2023. The opening reception will be October 16th, from 2:00-4:00pm. All work is for sale. The gallery is open Tuesday through Saturday, 11:00–5:00pm, Sunday 1:00–5:00pm, and closed Mondays.