Newburyport — For more information, to get involved or contribute to Newburyport's 2nd Indigenous People's Day Event, visit contact: kristine@imaginestudios.org, 978-834-0367.
Schedule of Events:
10-11 AM: Opening ceremonies and fire circle – led by Paul and Denise Pouliot (Head Speakers of the Cowasuck band of the Pennacook Abenaki); Onega Waya White Wolf (Tsalagi Cherokee) participatory community ceremony, song, dance, drumming; Red Dawn (Mi'kmaq) and intertribal Participants; Newburyport Mayor Sean Reardon; Rev. Rebecca Bryan (First Religious Society Unitarian Universalist).
11:00: Main Stage- Paul and Denise Pouliot – Denise is the Sag Moskwa (Head Female Speaker) and Paul is the Sag8mo (Head Male Speaker/Grand Chief) of the Cowasuck Band of the Pennacook-Abenaki People that is headquartered in Alton, NH. In addition to their Tribal responsibilities, they serve the greater community on several state and regional alliances that deal with race, equality, food insecurity, sustainability, education, climate change, social services, and justice related to marginalized and BIPOC communities. Paul and Denise helped to found the Indigenous NH Collaborative Collective.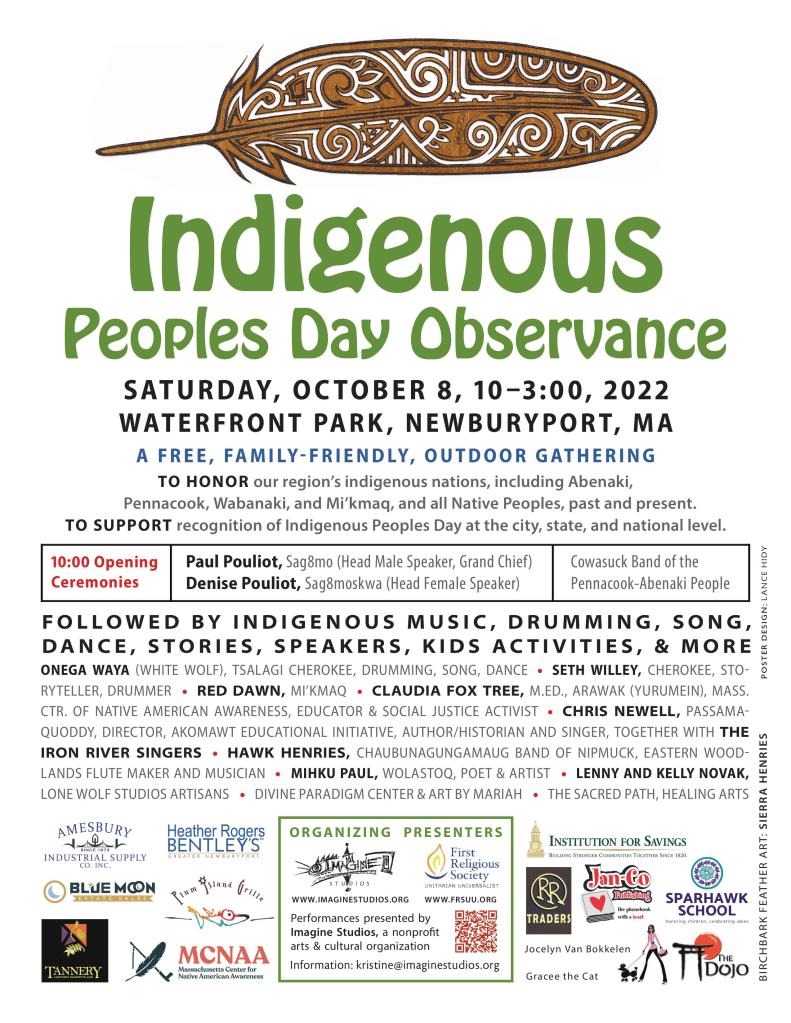 In February 2022, Denise and Paul Pouliot collaborated with filmmaker Catherine Stewart to create Swimming Upstream: Indigenous Environmental Justice for Our Waterways. The short film featured historic and scientific information relating to the Great Bay Estuary, located on the seacoast of New Hampshire.
11:30: Onega Waya White Wolf – (Tsalagi Cherokee) Drummer, dancer, storyteller, artist, and educator will be leading participatory community ceremony and cultural activities.
White Wolf was VP of the "Red Road Foundation", from 2005 through 2008, which was an educational non profit organization in NH that provided programs in schools throughout New England. He taught pre-American history, cultural history, and provided programs in grade levels from grammar school through college, as well as public venues and retirement homes.
White Wolf is Lakota taught for decades, having grown up out west. He also was a member of the Keetoowah Society in NYC, a tribally recognized Cherokee group who performed traditional ceremonies in upstate NY. He was also a member of Hayna Second Sons Powwow Drum group who performed throughout NYC and was host drum for Queens Farm Powwow in Queen's NY. He is a Pipe Carrier in both Lakota and Cherokee traditions.
White Wolf is a Northern Plains Traditional Dancer in the realm of the Powwow community. This choice came from his years of immersion in the Plains traditions. As Fire keeper for the Inipi (Sweat Lodge) and pipe carrier. 
12:00: Seth J. Willey – (Cherokee) Storyteller and drummer lives in Amesbury, MA where he facilitates drum circles to bring mother earth's heartbeat to the community. He shares traditional stories and songs for all ages so they will not be forgotten.
12:15: Elementary student speakers – from River Valley Charter School reflect on Indigenous Peoples Day.
12:30: David Detmold – Speaker on Indigenous Peoples Day and MA State Seal initiatives
12:45: Hawk Henries (Chaubunagungamaug band of Nipmuc) – is an artist, composer, and flute musician. He expertly crafts Eastern Woodlands flutes through ancestral and contemporary techniques. His transformative performances create contemplative spaces for unity and meaningful reflection on how we each have the capacity to make change in the world. Through music, discussion, and a note of humor, he weaves a calm, engaging, and thought-provoking experience. 
Hawk has had the honor of presenting at venues such as The Smithsonian's National Museum of the American Indian, the New Orleans Jazz and Heritage Festival, Harvard Medical School Graduation, and in the U.K. with the London Mozart Players. He also enjoys educational settings from kindergarten to university and small venues where he can engage the audience in dialogue. As a seasoned flute maker, Hawk has flutes all over the world and in several museums. He has three original CD's; First Flight, Keeping the Fire and Voices. He is also featured on the compilation CD Tribal Winds. His music has been used in a variety of films and documentaries, some of which won or were nominated for Emmy awards. 
1:30: Claudia Fox Tree – Board Member MA Center for Native American Awareness. Professional educator and social justice activist Claudia Fox Tree, M.Ed. Facilitates courses and workshops on having difficult conversations about diversity and anti-racism. In decolonizing equity conversations, she centers present Indigenous experiences and inclusive history in what is now known as North and South America. Her presentations center on marginalized Native American identities and missing contributions while dismantling stereotypes and historical inaccuracies. She asks allies and co-conspirators to come on the journey with her. Claudia will address assumptions that perpetuate stereotypes and myths, expand ideas about "American history," and explore the role of language. The journey of developing a counter narrative to missing information and misinformation about the First Nations people of this land begins with un-erasing Indigenous voices, learning what we were not taught, and continuing to have those conversations with families and friends. 
Since 2000, Claudia has been on the Massachusetts Center for Native American Awareness board. MCNAA's mission is to preserve Native American cultural traditions; to assist Native American residents with basic needs and educational expenses; to advance public knowledge and understanding, to dispel inaccurate information about Native People, and work towards racial equality by addressing racial issues and inequities across the region.
Since 1998, Claudia has been a Massachusetts liaison for the United Confederation of Taino People, headquartered in New York. UCTP (http://uctp.blogspot.com/) spans the Greater and Lesser Antilles and the United States and beyond. The UCTP is dedicated to promoting and protecting the human rights, cultural heritage, and spiritual traditions of the Taíno and other Caribbean Indigenous Peoples for present and future generations and endeavors to assist its citizens in their social, economic, and educational, cultural, and spiritual development. Claudia is a tribal member of the Iukaieke Guainia Taino-Arawak Tribal Community.
In 2022, Claudia was awarded a Citation from The Massachusetts House of Representatives for "scholarship, activism, and tireless work to give voice to the experiences of Indigenous and Native American People." In 2022, Claudia was honored by Ad Club for creating a more equitable Boston as a "Mentoring Champion" on their Equity Project Honor Roll.
1:45: Mihku Paul – is a Wolastoqey writer and visual artist who grew up on a wild Maine river. Her family is from Kingsclear First Nations. She created a one-woman exhibit at the Abbe Museum while a grad student; Look Twice: The Wabanaki in Image & Verse, and is the author of 20th Century PowWow Playland. Mihku is a Fellow this year with the first inaugural Maine Literary Festival and recent work can be seen on the Atlantic Vernacular online exhibit of art/poetry, N.B. Canada. And Littoral Books anthologies Wait: Poems from the Pandemic and Enough! Poem of Protest and Resistance. Mihku lives and works in Portland, Maine. https://atlanticvernacular.ca/portfolio-item/meagan-musseau-mihku-paul/; https://www.nhpr.org/nh-news/2022-07-13/plymouth-exhibition-features-artwork-how-nh-seasons-are-changing; https://siwarmayu.com/mikhu-paul-three-poems-from-20th-century-powwow-playland/.
2:00: Chris Newell and The Iron River Singers – Chris Newell was born and raised in Motahkmikuhk (Indian Township, ME) and a proud citizen of the Passamaquoddy Tribe at Indian Township. For over two decades, Chris devoted much of his time travelling all over the US and Canada singing at community pow wows and spending time in those communities learning various Native musics. He currently performs with the Iron River Singers. The Iron River Singers are an intertribal group of Abena. Northern style pow wow singers from New England, formed in 1988.
Chris served for six years as the Education Supervisor for the Mashantucket Pequot Museum and Research Center. Out of the museum, Chris and his museum colleagues co-founded the Akomawt Educational Initiative as a response to observations of the public school system and the lack of representation of Native history and social studies. Chris combines his music and education disciplines together and often makes presentations that educate, but also entertain. 
Chris was the Senior Advisor for the Emmy-award winning documentary Dawnland and participant in the upcoming short documentary Weckuwapok: The Approaching Dawn chronicling a historic sunrise concert collaboration in 2021 with Wabanaki musicians/storytellers and 18-time Grammy-winning cellist Yo-Yo Ma. From 2020 –2021, Chris served as the first Wabanaki Executive Director for the Abbe Museum, Maine's only Smithsonian affiliate. He and the team at the Abbe led the effort to create Digital AMIM in 2020 in response to the global pandemic which earned Chris and the entire Abbe staff a 2020 NEMA Excellence Award. Most recently Chris authored the award winning children's history book: If You Lived During the Plimouth Thanksgiving.