GROVELAND — Town Administrator Rebecca Oldham and Groveland Historical Society President Claire Wals have announced that the Groveland Historical Society will host the 19th annual Pines Speedway Reunion. 
On Saturday, Oct. 1 at 11 a.m., the Groveland Historical Society will host a vintage car show at Pines Speedway, 183 Main St.
The event is free and will feature vintage race cars from the 30s, 40s, 50s, and 60s, with former competitors being honored. There will be a live band, raffles, and food and drink will be served during the event.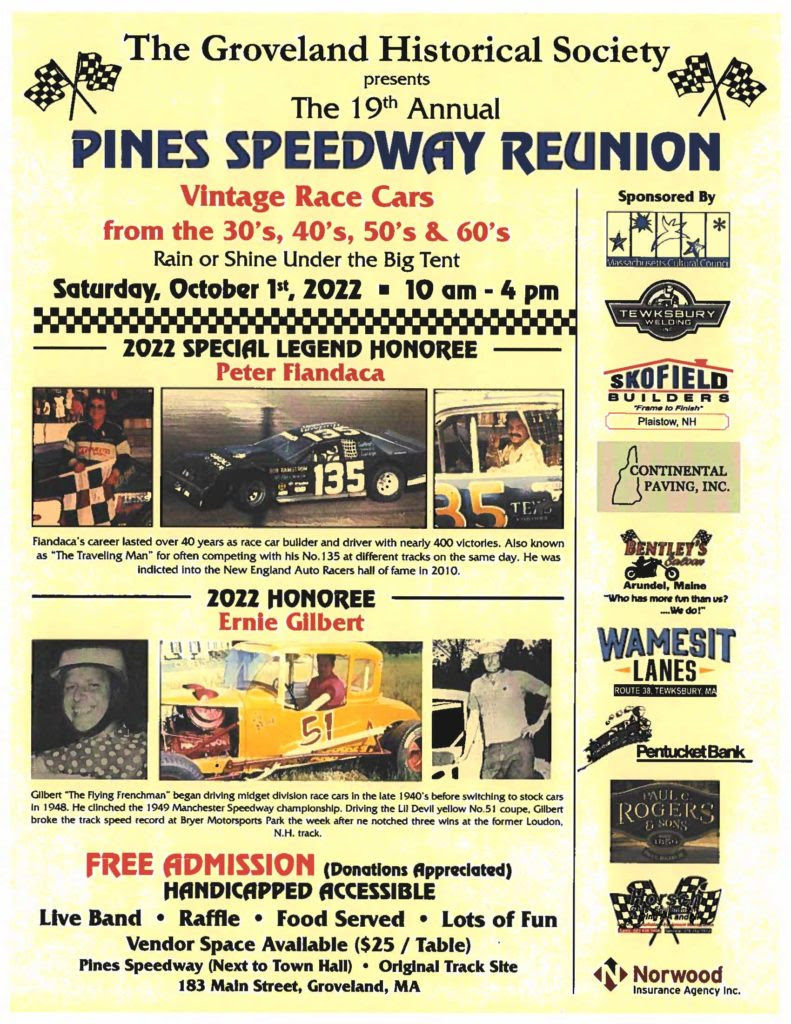 Vendor space is available for $25 per table. Interested vendors should contact Director Walsh at clairew1401@aol.com
The reunion will also honor Peter Fiandaca of Fitchburg, MA as the 2022 Special Legend Honoree, and Ernie Gilbert as the 2022 Honoree.
Fiandaca was also known as "The Traveling Man" for often competing at different racetracks on the same day with his No. 135 race car. He had a 40-year career as a race car builder and driver which included nearly 400 victories. Fiandaca was inducted into the New England Auto Racers Hall of Fame in 2010.
Gilbert, also known as "The Flying Frenchman" began driving 'midget' division race cars in the late 1940s before switching to stock cars in 1948. He won the Manchester Speedway Championship in 1949. A week after breaking the track speed record at Bryer Motorsports Park driving the Lil Devil yellow No.51 coupe, Gilbert clinched three wins at the former Loudon, New Hampshire track.
Residents are encouraged to attend the reunion to explore vintage cars and view racing memorabilia.
The quarter-mile track, opened by Oscar "Cannonball" Ridlon and John Smith in 1940, was home to 'midget car' racing. 'Midget cars' are a class of four-cylinder racing cars that are small with a remarkably high power-to-weight ratio.
The track closed during WWII and was reopened and paved in 1946. 
The track officially closed in 1973 and was home to thousands of race car drivers and fans. The Town of Groveland bought the 38-acre property of 'The Pines' which included the speedway in 1974.