Topsfield, MA – Calling all seekers, pilgrims, and innovators – and anyone else in search of meaningful connection and conversation. Join us for an in-person afternoon workshop using the arts as a platform for spiritual inquiry and exploration. Restart with Art: Explore Your Spiritual Identity through Writing, Sketching & Photography, will take place Sun., July 24, 2022, from 1 – 4:30 p.m. in Topsfield's historic Gould Barn. The cost of the event is $25 per person. (Please note: No special art or writing skills are necessary.)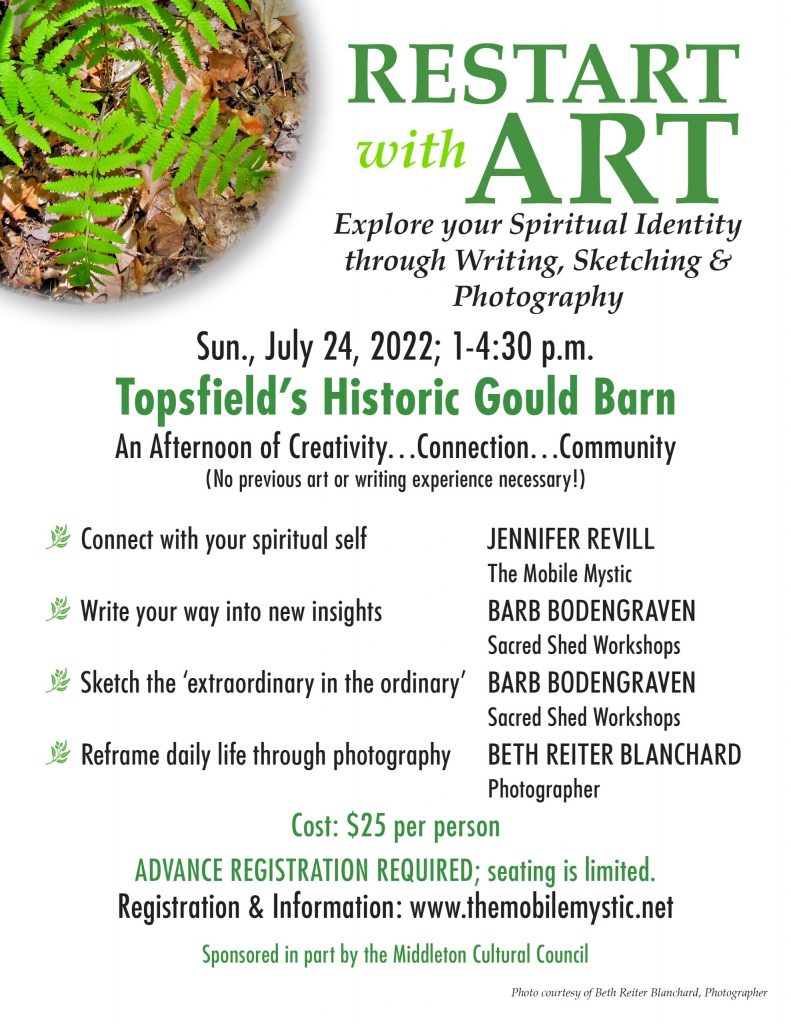 The program creators, Barbara Bodengraven of Topsfield and Jennifer Revill of Middleton, independently offer similar workshops at other local venues. Restart with Art is their first joint offering. Both women hold graduate degrees in spirituality and theology. Bodengraven is the author of the spiritual memoir, The Sacred Shed on the Edge of the Ravine, and is the creator and facilitator of Sacred Shed Workshops – programming that promotes writing and art as spiritual practices. Revill is the owner and principal of The Mobile Mystic, a local company that creates opportunities for discovery and dialogue about contemporary spirituality, and is an academic development consultant specializing in the spirituality of work. 
"We hope Restart with Art will help people see themselves and the world in a new, more expansive way," says Bodengraven. "As we continue to emerge from this on-again, off-again pandemic and re-engage with one another, it's important that we explore and celebrate life inside a larger spiritual dimension together. The arts can help us do that."
The afternoon program will consist of four segments. Revill's presentation will demonstrate how to create a "spiritual treasure box" as a tool for quarrying daily life for meaning. Bodengraven will offer reading and writing prompts as touchstones to deeper insights. She will also share ideas and strategies for learning how to see the "extraordinary in the ordinary" by engaging in simple visual artistry. Beth Reiter Blanchard, a photographer based in Ipswich, will lead an additional session on reframing daily life through the mindfulness of photography.
"This workshop is an affordable and experiential opportunity for all who are interested in exploring the many intersections of art with spiritual life," says Revill. 
Advance registration is required; seating is limited. 
Registration & Information: www.themobilemystic.net. 
This event is sponsored by the Middleton Cultural Council,
Sacred Shed Workshops & The Mobile Mystic