HUNDREDS OF CONTESTS TO ENTER AT THE 2021 TOPSFIELD FAIR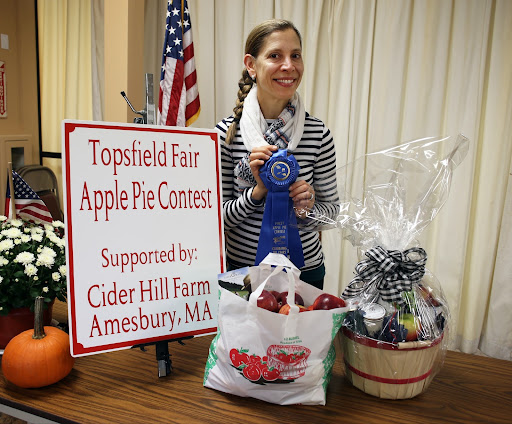 Photos courtesy Topsfield Fair. Lisa Shamsai of Boxford placed 1st in the 2019 Topsfield Fair Apple Pie Contest.
TOPSFIELD
–The 203rd Topsfield Fair, running October 1-11, 2021 offers hundreds of contests for both amateur and professional entrants. Some of the contests include prize money while others are just for bragging rights. Contestants can upload their entries
online
. Contests include:
Art (Amateur & Professional) – Painting, Graphics, Photography, etc. Entry Deadline: 9/6. Entries accepted 9/11 & 9/12 from Noon – 4:00 p.m.
Beekeeping – Honey Products, Beeswax Products, Arts & Crafts, Cooking with Honey & Spirits, etc. Entry Deadlines vary based on category.
Canning – Jelly, Jam, Preserves, Relish, Pickles, etc. Entry Deadline: 9/7. Entries accepted on 9/11 (10:00 a.m.-2:00 p.m.).
Crafts – Ceramic, Crocheting, Doll, Jewelry, Knitting, Needlework, Models, Quilting, Rug, Sewing, Smocking, Spinning, Weaving, Woodworking, etc. Entry Deadline: 9/6. Entries accepted 9/18 & 9/19 from Noon – 4:00 p.m.
Farm Photography – Theme: Agriculture in Massachusetts. Entry Form and photos must be at the fair office by 9/1.
Flowers – Bonsai, Dahlias & Zinnias, Hanging Basket, Holiday Decoration, House Plants, Terrariums, etc. Entry Deadline: 9/27. Entries accepted 9/30 from 10:00 a.m. – 6:00 p.m.
Foods – King Arthur Baking Company Citrus Baked TreatContest, Parent & Child Cookie Celebration (Theme: Halloween Cookie), Topsfield Fair Apple Pie Contest, Topsfield Fair Fall Harvest Baked Sweet Treat Contest. Entry deadlines vary.
Fruit – Apples, Berries, Crabapples, Grapes, Peaches, Pears, Plums, Quinces. Entries accepted on 9/30 from 7:00 p.m.-9:00 p.m.
Giant Pumpkins – Over $15,000 in prize money up for grabs. Entry Deadline: 9/12. Weigh-off held on 10/1.
Poultry – Ducks & Geese, Standard Poultry, Eggs, Bantams, Cock Crowing, Hen Flying, Turkeys, Pigeons, Non-Standard Barnyard Rooster, Poster. Entry Deadline: 9/15.
Additional categories include Cattle, Christmas Trees, Decorative Pumpkins, Draft Horse Show, Horse & Oxen Pulls, Rabbits & Cavies, Sheep, Sheep Dog Trial, Vegetables, Winemaking, 4-H Club, and many others. Entry deadlines vary.
There are also two pageants held annually at the Topsfield Fair
Junior King & Queen – For children ages 5–8, who will be judged on general appearance, conduct and personality. Each child will be interviewed on stage. All contestants will be asked to be dressed in casual attire. Entry Deadline: 10/1. Pageant held 10/2 at 10:00 a.m.
Mrs. Essex County – Contestants must be married, at least 18 years old, currently living in Essex County with their spouse. Each contestant will submit a prepared food item. A preliminary interview will be conducted and selected participants will appear in the pageant in elegant cocktail wear and will be judged on general appearance, personality, poise, and food score. Entry Deadline: 10/7 at 10:00 p.m. Pageant held on 10/10 at 1:00pm.
Entry forms are available by visiting: www.topsfieldfair.org. Information on each contest can be found by visiting www.topsfieldfair.org/about/exhibitor-handbook/ under the "About" section on the homepage of the website. Contact information for the person responsible for each contest is included with the contest form for each department. Requirements and entry deadlines vary for each contest.
Ticket prices for the 2021 Topsfield Fair are $15.00 each day. Discount admission tickets are available by visiting www.topsfieldfair.org through September 27, 2021. General Admission discount tickets can be purchased for only $12.00, which are good any day during the Fair's 11-day run. A three-day pass, good any three days, is available for $30.00. Children under eight with an adult are free. Discounted food vouchers and ride tickets are also available when purchased in advance at www.topsfieldfair.org.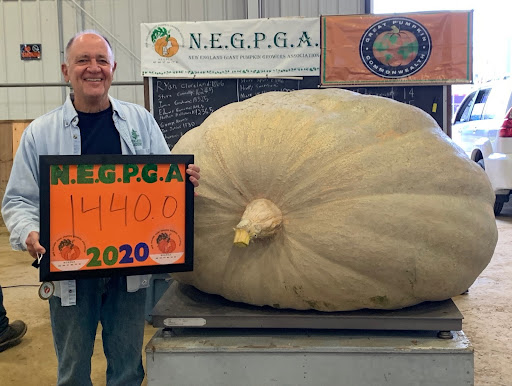 Tom Keenan of Swampscott stands with his entry that weighed in at 1,440 pounds at the New England Giant Pumpkin Weigh-Off at the 2020 Topsfield Fair. Photos courtesy Topsfield Fair
Mary Jo Freshette of North Andover places 3rd in the King Arthur Baking Company Favorite Blondie or Brownie Contest at the 2019 Topsfield Fair. Photos courtesy Topsfield Fair