NEWBURYPORT – At the end of the annual meeting of the Greater Newburyport's Chamber of Commerce and Industry last month, David Hall said those words to encourage others as the region emerges from the Pandemic.
Hall, whose Hall & Moscow owns and manages residential and commercial properties, including The Tannery Marketplace, won the prestigious Edward G. Molin Award. Named for a former mayor, businessman and philanthropist, the award was established in 2005, to honor residents who do 'good things' in the community.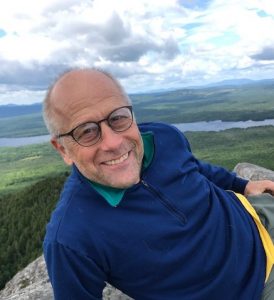 "This is a really big deal for me," Hall said. "Ed was amazing. I am so grateful to have been a part of this community. You know, good things don't happen without a lot of people. And tonight's event is a good manifestation of that. Just all the people on the stage and in the crowd. We are so lucky. I am so grateful to all of you."
The chamber also honored Patty Deorocki, an employee of Port Healthcare, who out-going chamber president Frank Cousins Jr. said went above and beyond to help families of loved ones living at the Low Street facility. During the Pandemic when family visits were banned, Deorocki kept contacts alive by relaying messages and delivering gifts to patients from their families.
Deorocki was awarded the first Patricia D. Connelly Community Service Award, a 36-year-employee of the Institution for Savings, who died last summer. Connelly was known for kindness and community-minded spirit.
If you have ever enjoyed shopping at the Newburyport Farmers' Market, you have David Hall to thank.
Like Molin, Hall has been involved in dozens of local non-profits and fundraising causes that are as diverse as the expansion of the Newburyport Public Library, the local chapter of the American Red Cross, the Boys & Girls Club of the Lower Merrimack River and local schools. He helped advance the Newburyport Skate Park, lead the Coastal Trails Coalition and is completing the 48-unit Hillside Center for Sustainable Living near the Rte. 1 Rotary.
Past recipients, in addition to Molin who received the first award, include Arthur Page, Maria Miles, Richie Eaton, Byron Matthews, Esther Sayer, Frank Cousins, Bill Plante, Cindy Johnson, Charlie Cullen, Mike Strem, Ginny Eramo, Josiah Welch, Wayne Capalupo, Ralph Castagna and Vicki Hendrickson.
Former chamber chair and owner of the Cococoa Bakery and Café in the Tannery said of Hall, "People are watching, noticing and appreciating the difference you have made and are still making in this community. Thanks to David Hall's vision, energy and leadership, Newburyport is a better place to live, work and enjoy."
Patty Deorocki and David Hall Honored