FlingGolf Dives Into The Shark Tank
AMESBURY – FlingGolf, which Ipswich resident Alex Van Alen invented in 2012 and is now played on more than 1,200 golf courses in 27 countries, will get a chance to pitch the fast-growing new sport to five potential "Sharks" on the national television show, "Shark Tank", at 8 p.m. next Friday night, May 14.
FlingGolf is played with a specially designed FlingStick thrower to launch and putt golf balls on a golf course, in a field or a backyard. Players use a single New Swarm FlingStick thrower, which looks like its father was a golf club and mother was a lacrosse stick.
With the colorful FlingStick, a FlingGolfer hurls the ball and shapes every shot from tee to hole. It can be played alone, with other FlingGolfers or with traditional golfers.
"We hopefully get a good partner," Van Alen said of the "Shark Tank" appearance. "It certainly is great exposure."
The show does not allow contestants to disclose in advance any details, including whether they got a deal and with which of the sharks — Mark Cuban, Daniel Lubetzky, Lori Greiner, Kevin O'Leary and Robert Herjavec.
In the news release approved by the "Shark Tank" production team, Van Alen is quoted: "After years of establishing the sport, working closely with golf courses and growing our grassroots player base, we are psyched to present FlingGolf and New Swarm's FlingStick to the Sharks and to introduce this rising sport to millions of viewers."
In an interview with The Town Common, Van Alen, Pruellage and general manager Stevan Bloom said the show was recorded last August during the Pandemic at the temporary "Shark Tank" studios in the Venetian Hotel in Las Vegas, NV., where it was 120 degrees outside, Van Alen said.
A pitch by contestants for the show is about 45 minutes long. It is then edited to a segment for broadcast that is roughly 11 minutes long.
FlingGolf was invited to make the pitch more than a year ago. It was one of about 120 companies invited by the show. As of the 2018 season, about 40,000 companies apply each season with 158 getting to pitch the Sharks. Of those 88 are broadcast during the weekly, hour-long show.
"It comes at a good time," Pruellage said. He and his team expect a sharp rise in sales of FlingSticks due to the exposure.
"A few years ago, we weren't ready" to be on a national television show like "Shark Tank," Van Alen said.
From 2014 to 2019, FlingGolf increased play on an average of 160 new courses a year. In 2020, despite the Pandemic, FlingGolf outpaced that rate and anticipates 2021 will be its fastest growth year to date, according to the company.
Early adopter golf courses that include rental FlingStick packages and group activities reported generating as much as $50,000 in incremental revenue every year and averaging more than 1,500 rounds by filling empty tee times, the company reported.
"People love FlingGolf because it uses just one FlingStick to accurately launch and putt regulation golf balls," van Alen said. "It's much easier to get started than golf, but can be played with traditional golfers so everyone can have fun on the course."
Pruellage was quoted: "There is an opportunity to both rejuvenate the interest of lapsed golfers' and to attract an entirely new segment of players to golf courses looking for additional revenue. It's like what snowboarding did to the ski industry decades ago, ultimately propelling innovation and bringing new crowds to resorts. Similarly, FlingGolf has created a way for friends and family to enjoy being outside together, on the same terrain but with different equipment."
FlingGolf started in the childhood backyard of Van Alen and his brothers, who combined equipment and competed against one another in their own original sports, including football on skates, frisbee on dirt bikes and golf with a lacrosse stick.
Fast forward to the 21st century. Van Alen's obsession with throwing a golf ball 200 yards turned into the patented FlingStick and the new sport of FlingGolf.
For more information on FlingGolf, including North Shore courses where it is played, visit FlingGolf.com.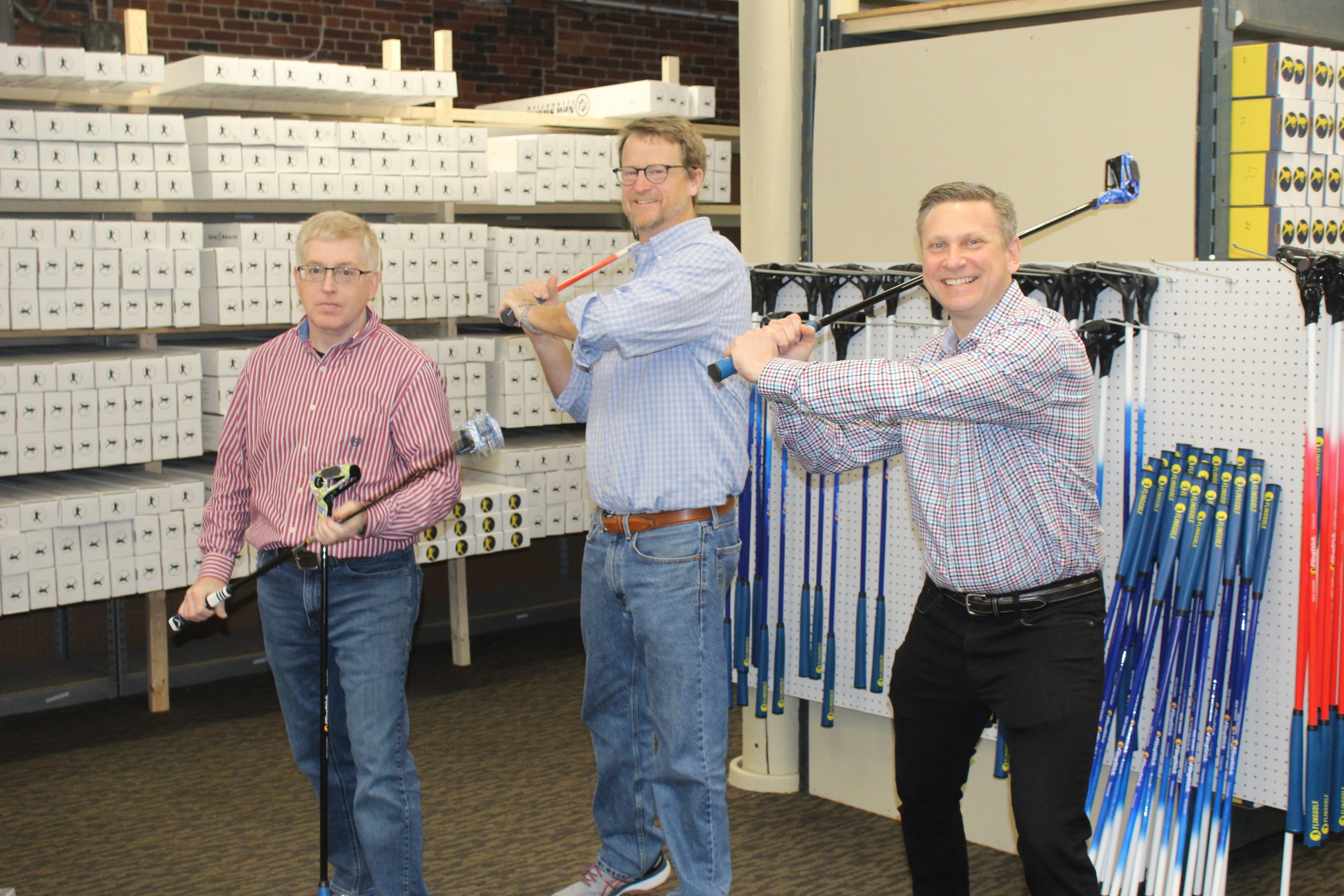 From left, Stevan Bloom, Alex Van Alen and John Pruellage. Photo by Stewart Lytle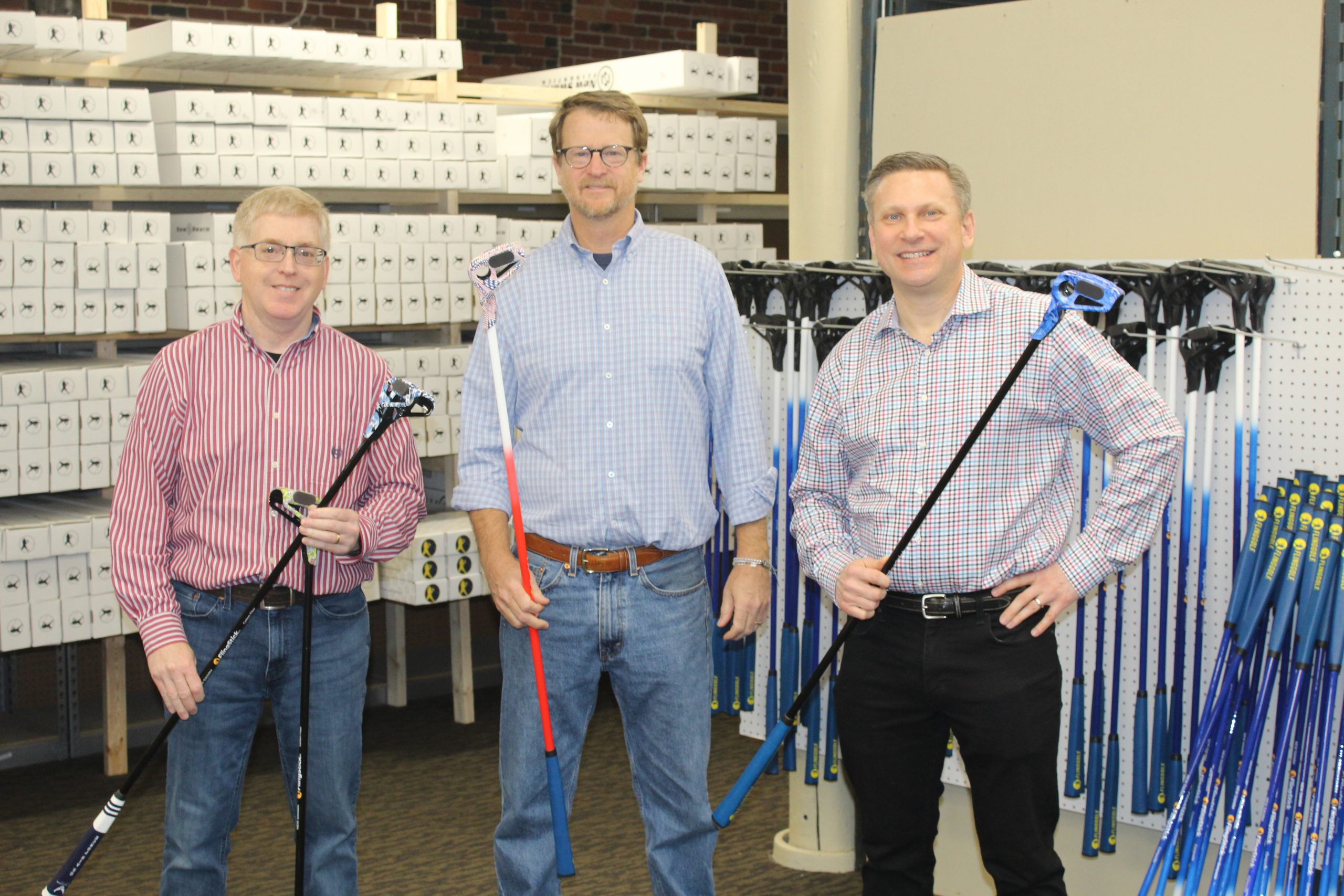 From left, Stevan Bloom, Alex Van Alen and John Pruellage. Photo by Stewart Lytle