C&J Bus Lines Growing Again – in Seabrook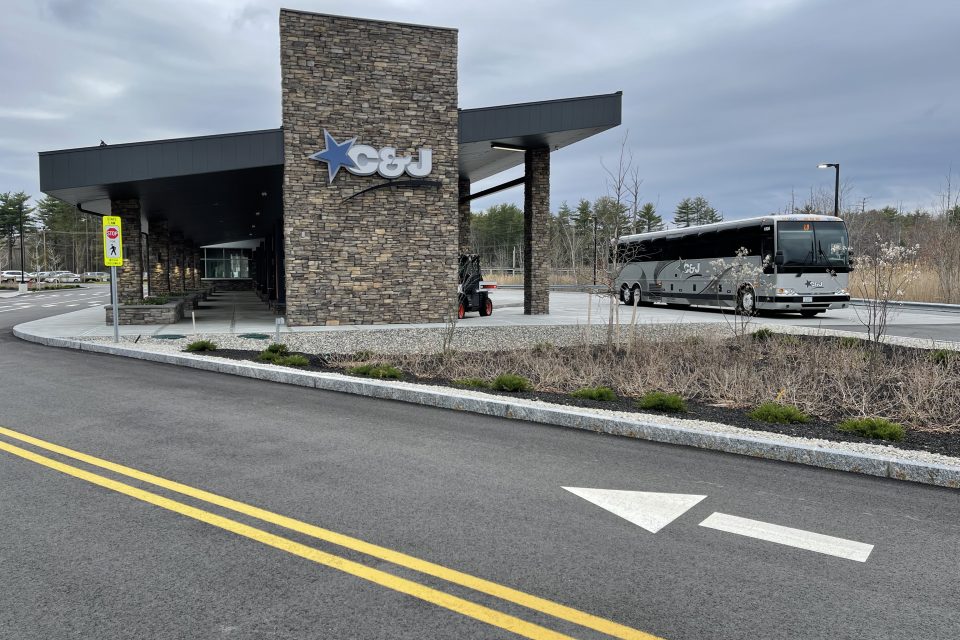 The new C&J Bus Lines station at Seabrook. Photo by Stewart Lytle
REGIONAL – As the Pandemic winds down and people begin to travel or commute again to work, C&J Bus Lines is growing once more.
"I feel good where we are going," said C&J president Jim Jalbert last week. But Jalbert predicts it will take two years for C&J's bus service to Boston and New York City to return to pre-Pandemic levels. And even then, he said, "it will be different. It will look different."
Before the outbreak of the Covid-19 virus, office workers were choosing to commute less, working from home one or two days a week. Jalbert expects that trend to continue after the Pandemic. But unlike many other bus companies, C&J has survived. The staff has returned after the company shut down for five months and are excited to be back at work, he said.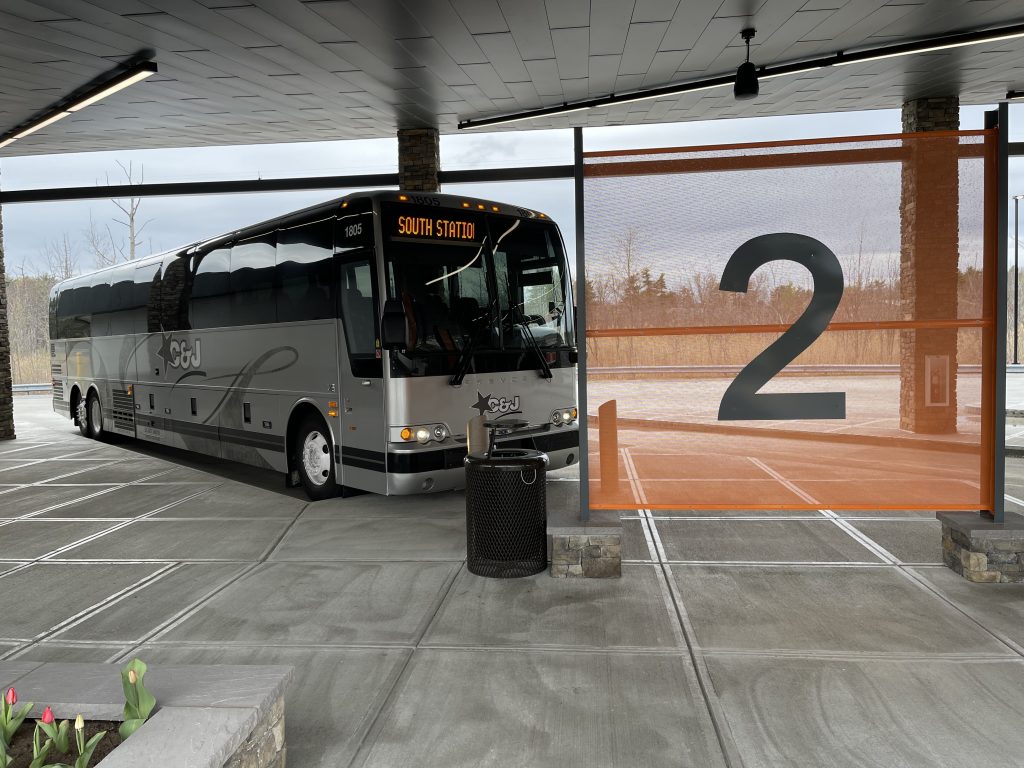 A C&J Bus leaving Seabrook for Boston. Photo by Stewart Lytle
On April 2, C&J resumed regular passenger service to New York City and is running 19 trips each way daily to and from Boston, serving Logan Airport and South Station as it has for decades.
Before the Pandemic slowdown, C&J was running 30 buses to and from Newburyport, Portsmouth and Dover. But for North Shore riders, instead of catching the bus at the Newburyport terminal, they must make their way 7 miles north to Exit 1 on Interstate Highway 95 to the closed Sam's Club at 13 Batchelder Rd in Seabrook.
Since last November, C&J has served its North Shore passengers from a new, multi-million-dollar terminal that is five times as large, at 4,000 square feet, as the 800-square-foot Newburyport terminal. No longer do passengers sweat whether there will be a parking space. The Seabrook terminal has room for 800 cars. But be prepared to pay $2 per day to park.
"We are thrilled to offer our services from this brand new, purpose-built facility at Seabrook," Jalbert said in a news release last year. "It's so close to our existing Newburyport facility that the consolidation process should be virtually seamless for our customers. The new terminal allows us more space to offer secure parking, a new and cutting-edge terminal building and additional routes to New York City. Despite the impact of these unprecedented times, we are excited about the opening of this new terminal and our future."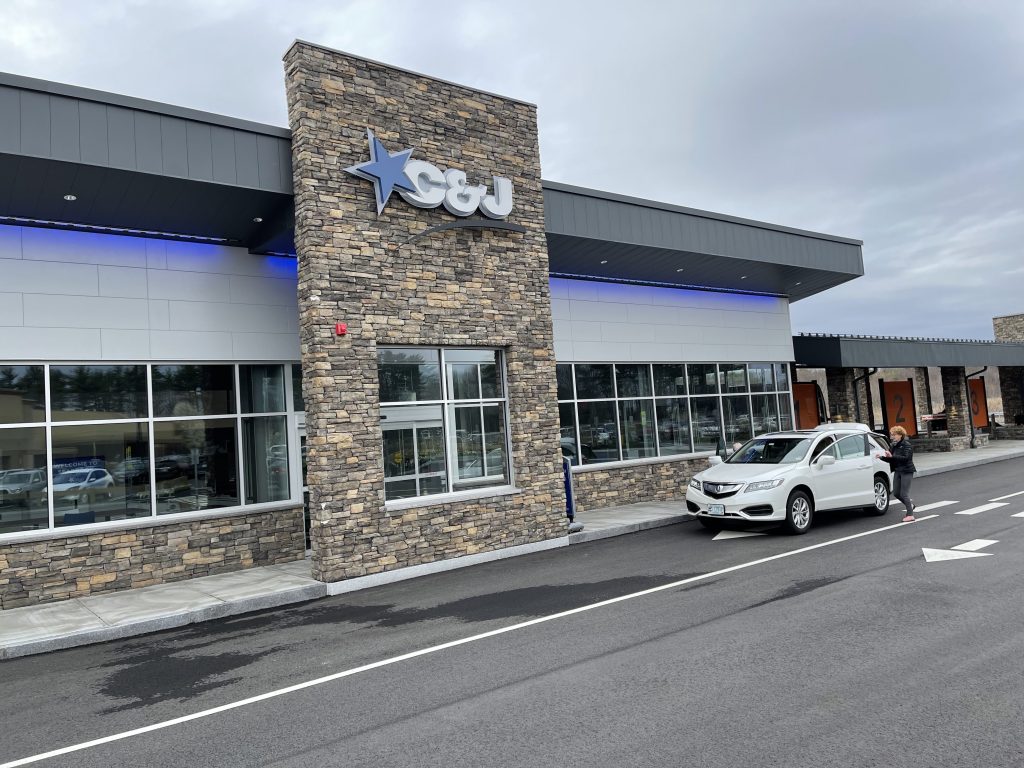 The near empty Newburyport park and ride facility. Photo by Stewart Lytle
The former terminal adjacent to Interstate 95 on Newburyport's Storey Avenue is back to being only a park-and-ride facility. On Friday morning, which used to have cars packed in every corner of the large Newburyport lot, there were only 19 cars last week parked on the acres of asphalt beside the small terminal building. Half of the lot was roped off.
"We tried for five years to expand" in Newburyport, Jalbert said. Despite spending a lot of money, pushing back a hill to create parking for daily commuters and adding more spaces on the northern end, "We were at capacity," he said. Jalbert said C&J invested in engineering and design, lawyers and legislative support, hoping to persuade the state Department of Transportation (MassDOT), which owns the Newburyport terminal, and the city of Newburyport to approve its plans.
The plans called for expanding across Storey Avenue to build on city-owned land. "We think it was a good idea. I know it was. I don't think the city and the state had the appetite," he said. "We didn't want to move." Newburyport Mayor Donna Holaday was quoted last year, saying C&J's departure was "a loss for the city." As the city bounces back from the Pandemic, she said the city and MassDOT should assess what makes sense for such a strategically located property.
"Maybe another transportation company will come back once things start to pick up again," the mayor was quoted. There have been no plans unveiled publicly in the nine months since C&J left. New Hampshire and Seabrook welcomed C&J with open arms, Jalbert said.
And he is happy with the move, as are the city and the state. That move is pouring tens of thousands of dollars in revenue into local and state coffers each year, money that previously went to Newburyport, he said. Jalbert said he likes Newburyport, and "maybe we'll come back someday."