REGIONAL — To make the Merrimack Valley Regional Transit Authority buses more visible, relevant and fun, the MVRTA has repainted the buses in a Latin theme or coral, aqua and yellow and given them a hip new name — MeVa.
The new buses and name were unveiled last week at a ribbon cutting at the Buckley Transportation Center in Lawrence. MVRTA was established in 1974 and has had the same look ever since.
The impetus for the rebranding started more than a year ago, when then-newly-appointed MVRTA Administrator Noah Berger and Communications Director Niorka Méndez-Almonte asked community groups what the bus service was doing well and what it could better. 
"People who could use our service either didn't know we were here or thought of us as irrelevant. For many reasons, our vehicles blended into the woodwork. Of course, it doesn't help that we have the same color scheme as a mail truck!" Berger said.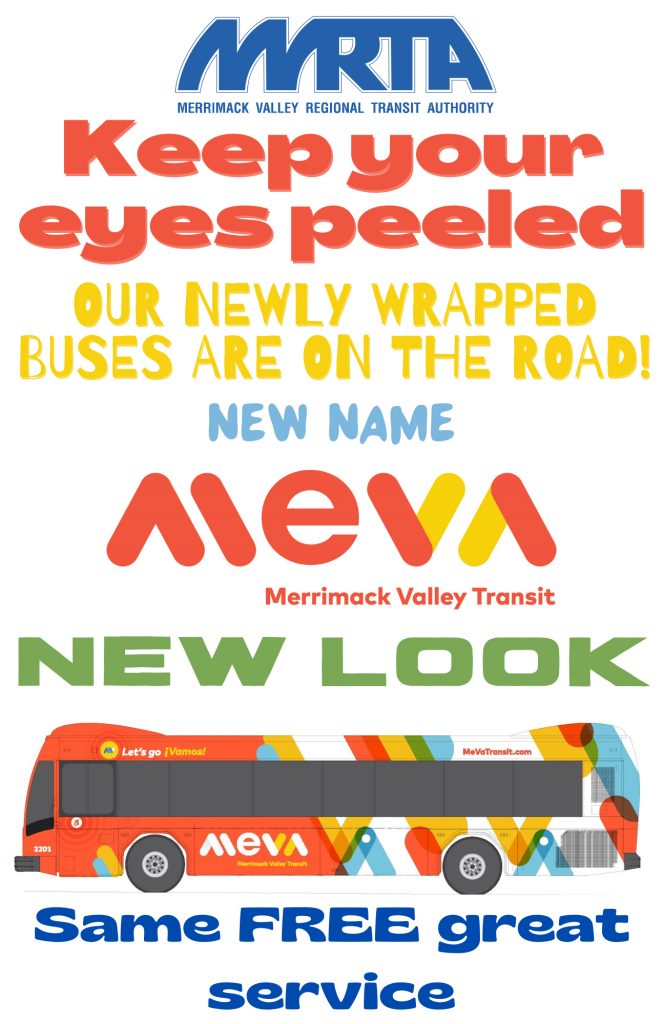 MVRTA put together a diverse focus group and asked what the community wanted their buses to look like. Participants, many of them originally from the Caribbean and Latin America, shared that they were used to colorful, dynamic buses that do a much better job of getting people's attention. 
Studio Six Branding, which had rebranded other transit authorities such as the Hop in Boulder, CO, used focus groups, that included drivers and riders and came up with the new design and name in May. 
To make the Merrimack Valley unique and special, the colors are inspired by housing in Old San Juan, Puerto Rico, while subtle ripples and water droplets honor the Merrimack River and abstracted clockfaces mirror the clocks on the area's historic mill buildings.
The new name, MeVa, short for Merrimack Valley, is hipper and easier to say than MVRTA. With the tag line "Let's go/íVamos!" prominently displayed on the buses, the system is especially welcoming to its many Spanish-speaking riders. 
Méndez-Almonte proudly observed that: "Being Latina, born and raised in the Dominican Republic, I feel connected to the new brand, the cheery and happy colors perfectly reflect the Hispanic culture. I am sure I am not the only one who feels this way."
In addition to the new look, the bus line has improved service, including going fare free systemwide back in March, doubling frequencies in Lawrence beginning last month, optimizing routings and adding bus stops. 
Through September, ridership was up 97.9 percent since going fare free. Nine of the newly wrapped buses have been plying the streets of the Merrimack Valley this month. After the initial launch, the authority will continue to work on wrapping the rest of the fleet. It is time for a fresh look that reflects and supports a new, responsive and welcoming twenty-first century transit service.