Family is part of the recipe at Three Sweet Peas Bakery Cafe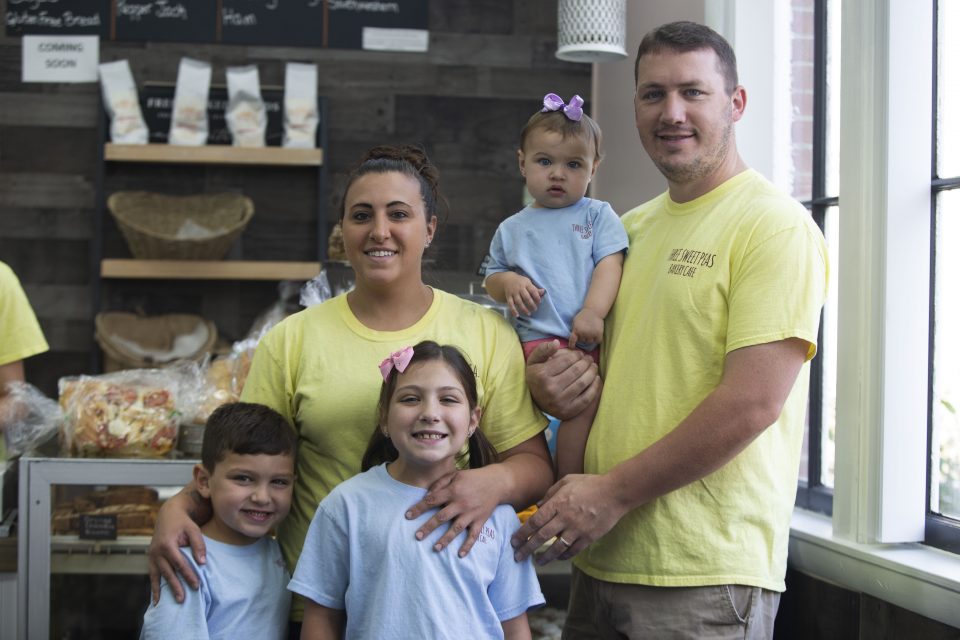 Owner and head chef of Three Sweet Peas Bakery Cafe, Angela Daley, stands and smiles with her husband, Kevin Daley, and the three sweet peas themselves, 7-year-old Angelina, 5-year old Jack, and 11-month Adrianna in their cafe. Photo credit: Libby O'Neill / The Town Common
ROWLEY — Angela Daley, head chef and owner of Three Sweet Peas Bakery Cafe, didn't expect to outgrow her new space on Main Street within three weeks of opening, but a visit on a Saturday morning makes it clear why she may be on that trajectory.
Customers line up before a colorful array of lobster tails, bismarcks, cream puffs, rum babas and glistening fruit tarts; on a hot August day, you can smell traces of sugar in the air. You might overhear a grateful comment from near the checkout counter about not having to drive out of the way to find an Italian bakery anymore.
This is a comment that Daley hears frequently, and she's happy to bring a little taste of Boston's North End to the North Shore. "We really fell in love with the town, the countryside around it," she replied when asked what drew her to Rowley specifically when her family was searching for a place to settle in the area. "Everyone's been amazing as we've been getting going."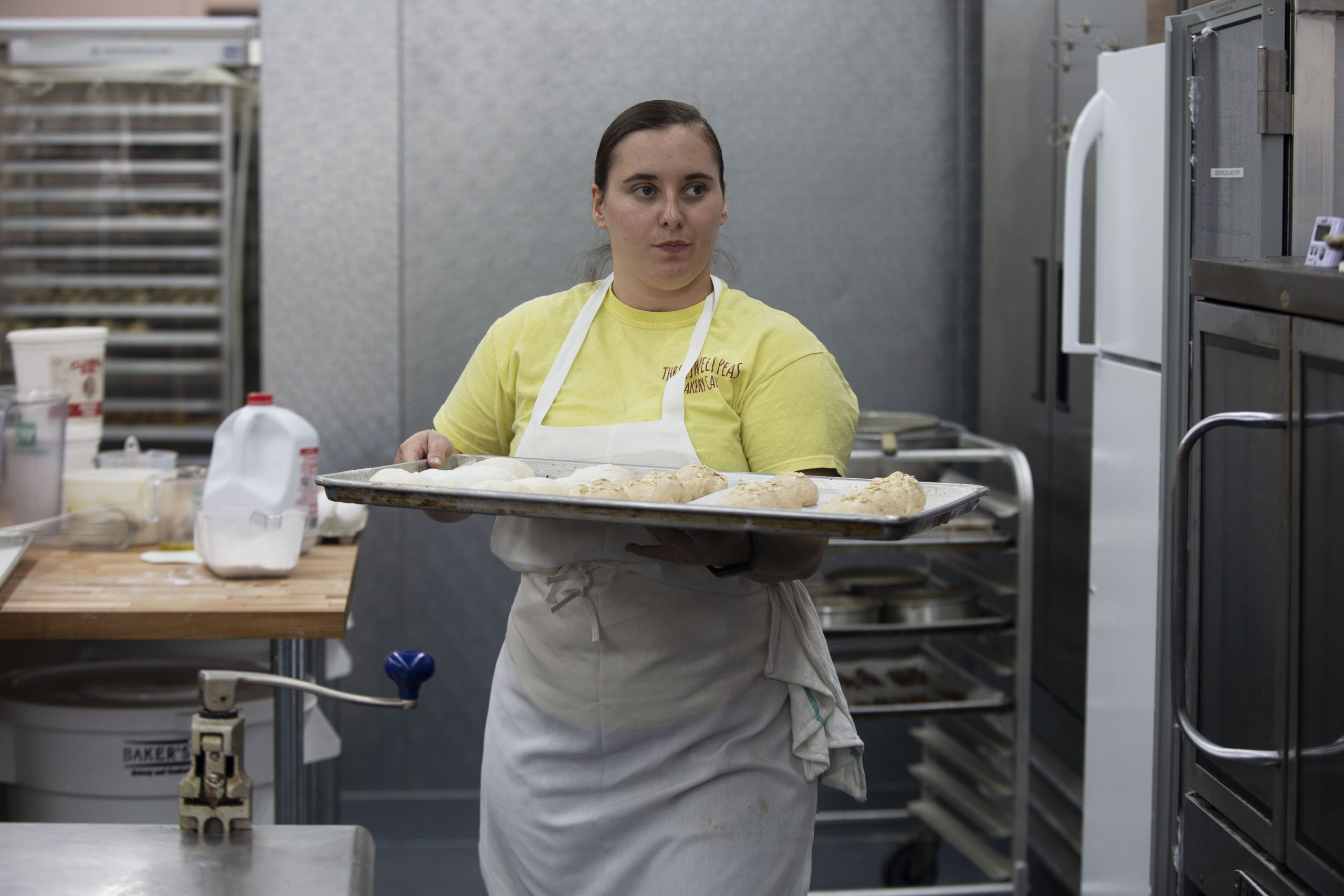 Matilda Rabinovitz, baker at Three Sweet Peas Bakery Cafe, walks toward a preheated oven with a tray of rolls. Photo credit: Libby O'Neill / The Town Common
For Daley, an alumna of Johnson & Wales University who ran a business in Arlington before moving to Rowley, cooking has always been a family affair. She started working in kitchens at the age of 14, inspired in part by her grandmother's baking. "Seeing her in the kitchen just sparked something in me," said Daley. Even today, her grandmother's influence is clear, and her recipes for sesame biscuits and wine biscuits can be found on the shelves in Three Sweet Peas. But the connection between family and baking extends to the next generation as well.
"We knew we wanted a name that could relate to three," explained Daley. "The three is for the three kids, and I call them my sweet peas." She added that she discovered later that sweet peas are native to Sicily, giving the name of the business a tie to her heritage and another layer of significance.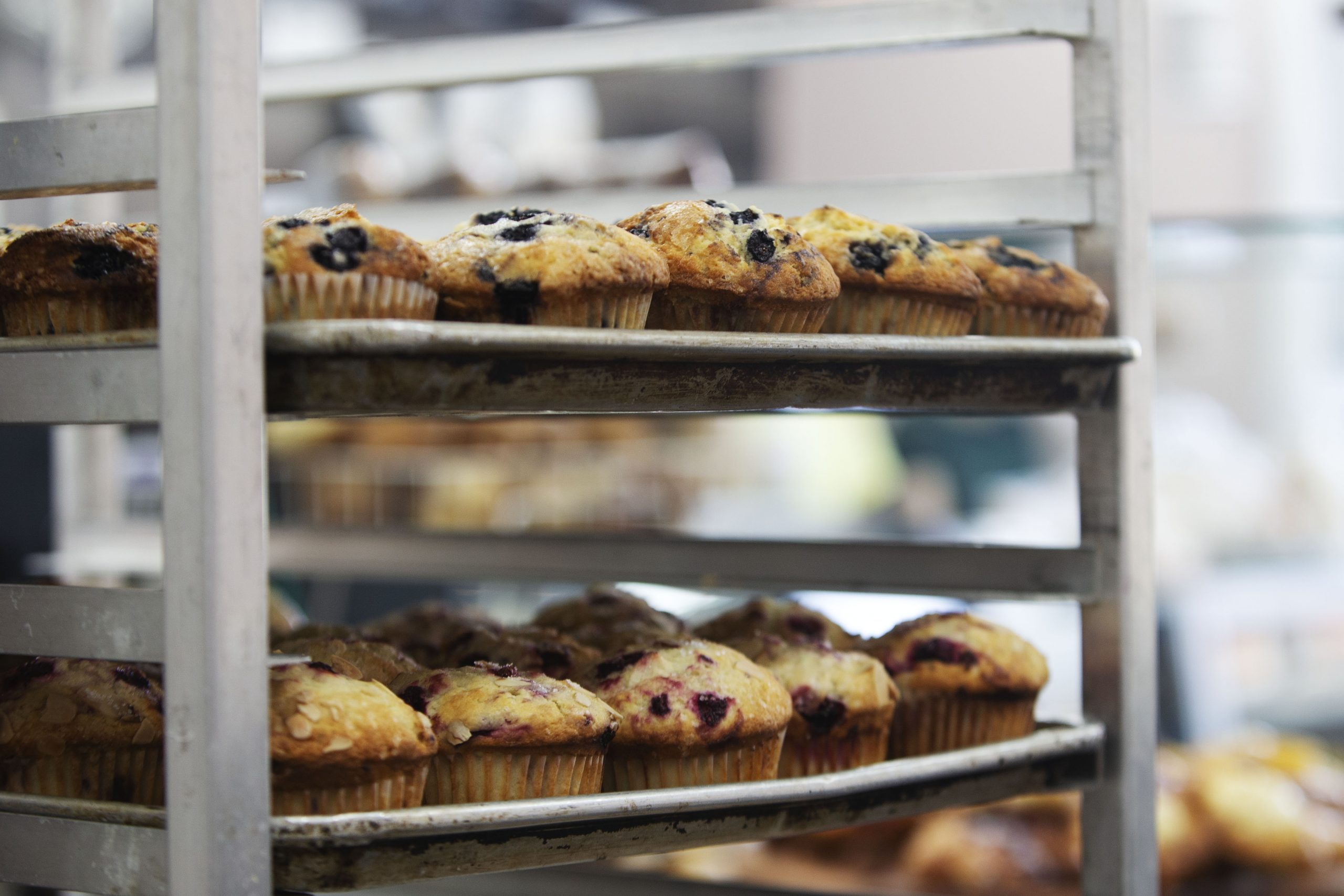 Trays of freshly baked muffins displayed for customers to see as they enter into Three Sweet Peas Bakery and Cafe. Photo credit: Libby O'Neill / The Town Common
Daley said the kids, ages 7, 5 and almost 1-year-old, show a lot of interest in the kitchen. They still bake and cook at home as a family outside of work for the bakery, making pancakes and other treats. "They're so proud, they know all the different knife types." Daley said she could possibly see them getting into the baking business one day, but it's too early to tell. "They're so little, I want them to explore what they want to do first. I wouldn't want to pressure them."
As far as the future of the business is concerned, Daley said she's excited to get sandwiches and salads going, and to start up catering services. When asked if she has any worries about starting a business amidst lingering Covid concerns, she admitted that there are always concerns about long term viability for the first five years. But with the capacity to do much of their business as takeout and a supportive community, Daley wasn't overly worried.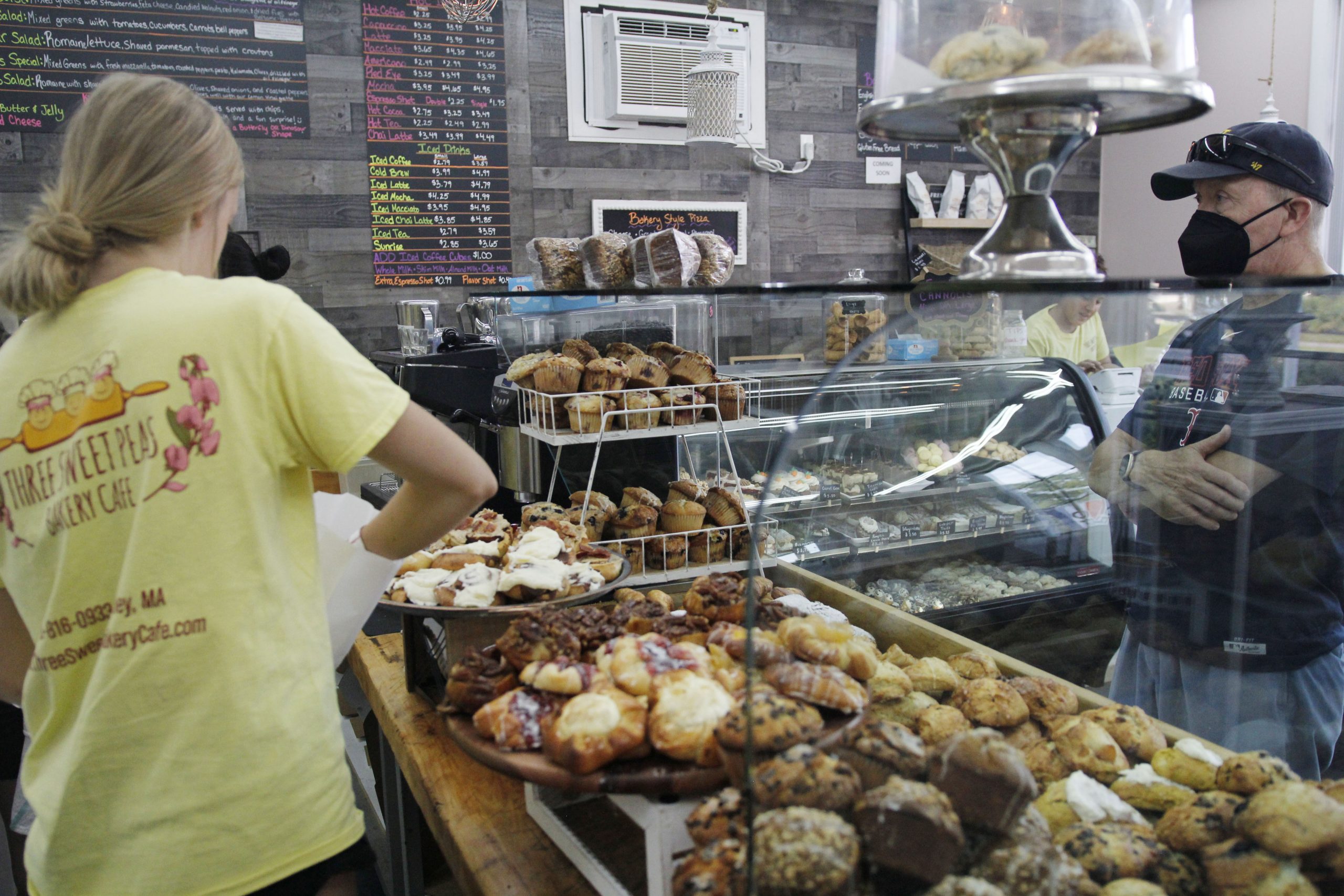 Barista, Jessica Manganello, places treats into a togo bag for a customer. Photo credit: Libby O'Neill / The Town Common
One person Daley especially wanted to thank for the bakery's success so far is her mother, Angela Basile. "Having the stores with the three kids, I couldn't do it all without my mom's help." Daley said her husband, Kevin, also pitches in with the baking, although his main job is away from the business. "We joke that he's a plumber by day and a baker by night."
"I just enjoy making things that make me happy," she said about cooking and baking. It was part of how she was raised. "That's the way I express how I feel. If you want to thank someone, bring them food. If you want to comfort someone, bring them food." She laughed. "Whatever you're feeling, bring them food."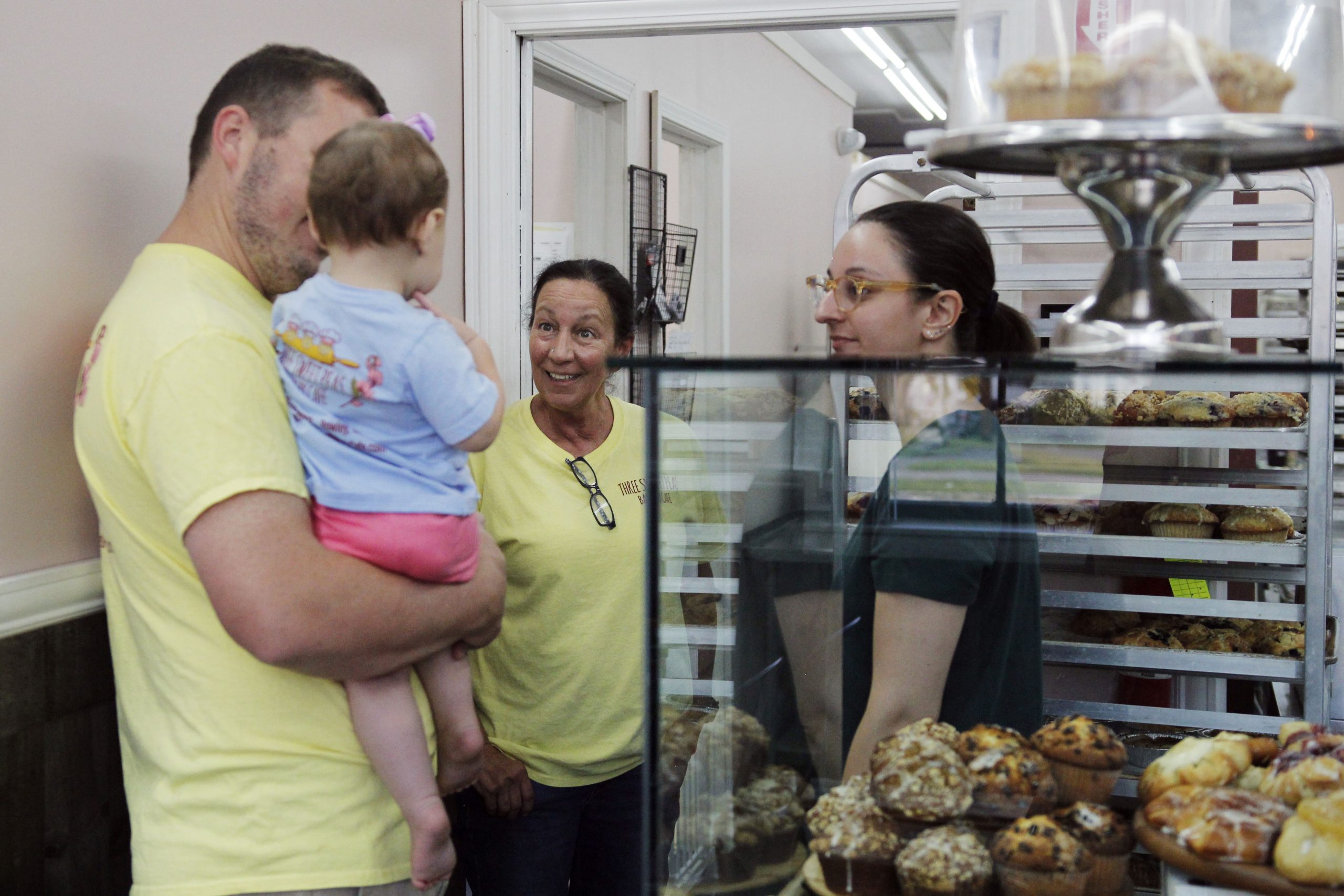 Kevin Daley (left), husband of head chef and owner of the bakery, holds 11-month-old Adrianna Daley as Baristas Lisa Cesati (center) and Lynnsey Molloy (right) take a moment to say hello. Photo credit: Libby O'Neill / The Town Common