Family veterinary practice celebrates seven decades of service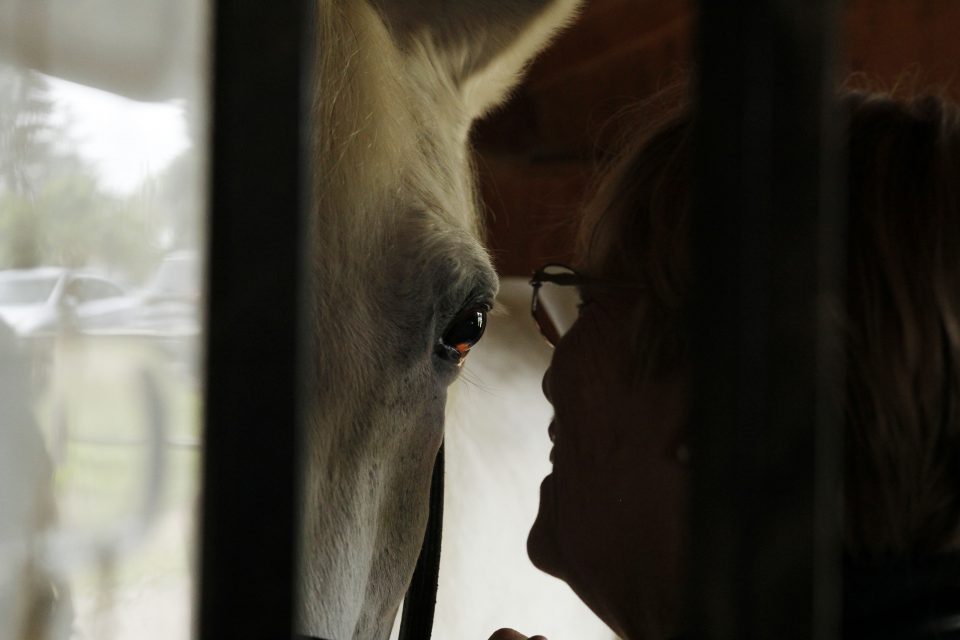 Dr. Helen Noble uses an ophthalmoscope to examine Shadow's retinas and overall eye health. Photo credit to Libby O'Neill
Ipswich — Veterinarian Dr. Helen Noble frequently takes two important passengers along for the ride when she goes out on barn visits—her two small dogs, Mattie and Haley.
"Mattie is little and she gets into trouble…She put those chickens away for a reason," explained Noble with a laugh after the chickens in the yard had been herded away by their owner and Noble's dogs had bounced from their seats in the car.
Noble, a Rowley resident whose practice is in Ipswich, comes by her trade honestly, having grown up with a veterinarian father and older brother. In 1987, the three family members integrated their practices into SRH Veterinary Services, which is celebrating 70 years of operation in the North Shore and New Hampshire Seacoast areas this year.
Noble's father, S. Robert Orcutt, initially founded his business in Framingham in 1951, having entered the profession later in life when his plans to become an engineer were stymied by the economy.
"The Depression came. So he went home and worked on his father's farm in Vermont," said Noble. Farm work led to breeding horses and an encounter with a veterinarian who suggested the would-be engineer return to school and try a different path. "My dad was passionate about horses…He was an amazing person, kind of crazy. He would get up at five o'clock in the morning, train horses all morning long, take a nap, then go on calls all afternoon up until midnight."
"You're not totally unlike that," interjected veterinarian technician Rachel Tuniewicz amiably.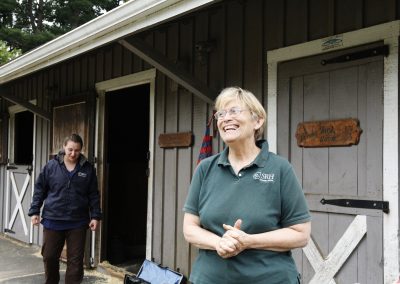 Dr. Helen Noble (right) stands outside Shadow's stable as veterinary technician, Rachel Tuniewicz, prepares the necessary tools for the physical examination.
Noble spoke in between examining Shadow, a 25-year-old Missouri Fox Trotter from Peabody who was receiving an annual checkup that involved routine shots, floating his teeth and washing his sheath.
The temperate, late June afternoon of Shadow's appointment was perfect weather for floating, Tuniewicz said as she pulled tools from a case. Horses' teeth are always growing, she explained. They have a sideways chewing motion that creates sharp hooks in their mouth which can in turn cause ulcers if they're not floated from time to time. The float itself is a metal file at the end of a handle that can come in a variety of shapes and sizes and be operated either by hand or electrically.
"Looks like a horror movie, doesn't it?" joked Noble from within a small stable as she examined Shadow's mouth, which was held open using another metal tool called a speculum.
Noble admits that horses are among her favorite animals to work on, but SRH Veterinary Services is a mixed practice that also serves small animals like dogs and cats as well as other large subjects such as goats, sheep, cows, some camelids and pot-bellied pigs.
On one of her more unusual visits, Noble was called out to a mansion where she was asked to examine a swan in a bathtub with a broken wing.
"Swans are huge, so I would say that was maybe the most bizarre thing that ever happened."
While Noble is clearly passionate about her job, making friendly conversation with Shadow's owner and asking questions about the animal's well-being, the care of animals is also a role that she takes very seriously.
"It's a huge responsibility and something you don't take lightly," she said, and recommends that anyone who is considering the career shadow a professional first. "I think it's because there's so much emotion that goes into what you do. So you're there when the animal's born and you're there sometimes when they take their last breath. It's a very emotional job."
Regarding the very somber topic of euthanasia of a suffering animal, Noble added, "People say, do you ever get used to doing that? And I say no, I should stop practicing veterinary medicine if I get used to it and it doesn't bother me. If it doesn't bother me every time, I shouldn't be doing it because it's a responsibility, not just to the pet, but to the people. Most of these animals are part of their family."
For all the sad moments that come with the territory of veterinary medicine, there are also the joys to help balance them out, such as watching a sick patient recover or the newness of birth.
"I'm involved with breeding horses and things like that and thinking you're part of creating this little loving being, you know, I think that's exciting." Noble says she also loves the joy that young animals bring to the people around them. "Because it's about people. I think you have to love people more than you love animals or at least the same."
It's a sentiment that Tuniewicz, who always wanted to work in veterinary medicine, mirrors. The job isn't exactly what she thought it would be when she was younger.
"You have to like people, and I always thought that I wasn't a people person…then I discovered I actually kind of am pretty personable," she said. "When I was very much younger I thought, I guess I'm going to help sick animals. And as I got older I realized that's not all it is. I mean, it's dealing with the people and dealing with the people's emotions and helping them make the best choice. I say no, it's not what I thought, but that doesn't mean that it's not good."