Duo at local auto business is going places fast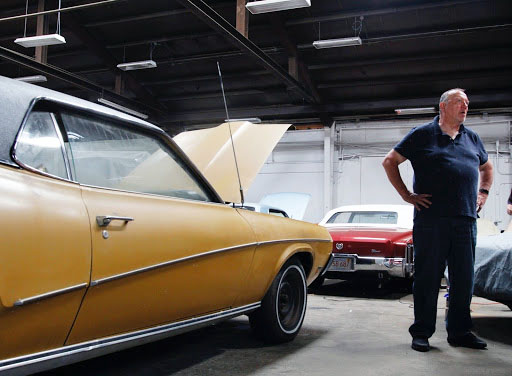 Founder of Silverstone Motorcars Paul Flückiger stands among the current inventory and stored vehicles.
NORTH ANDOVER — Rowley native Brendan Barry is happy to do mechanical work on a 1928 Armstrong Siddeley that once belonged to royalty, but he's wary when it comes to driving the vintage automobile.
The Siddeley, which Barry stated is believed to have been owned by King George VI when he was still the Duke of York, was brought by its current owner to Silverstone Motorcars on Rte. 114 to have its clutch repaired. When asked if he's had a chance to take the Siddeley on the road, Barry (who prefers to be called by his surname), replied in the negative.
"One, I didn't think I could handle it and two, the thing is so heavy and so big and so labor intensive to drive, I only drove it around the parking lot," he said, adding that it was still easily one of the coolest things he's ever driven, even if it was only for a few hundred feet.
Originally a student of chemistry, Barry finds fulfillment in the challenging nature of specialty projects like the Siddeley or a 1978 Lincoln Mark V that is also in his queue.
"It's kind of just a blast. I love it," said Barry, who does everything from involved projects on high-end cars to oil changes and simple repairs. "It's a constant puzzle. The parts aren't available, so you have to come up with your own solution."
The Siddeley was one case where the necessary parts weren't accessible, so they had to be specially designed and built in a machine shop.
To help troubleshoot older vehicles that come through Silverstone's bay of approximately 15,000-square-feet, Barry has formed a habit of frequenting flea markets to search for mechanical manuals from as far back as the early twentieth century. Whereas most issues with a new Toyota Camry are likely to be documented, a vehicle built in 1949 is a different story, and the body of living knowledge has dwindled over the years as mechanics familiar with the vehicles retire or pass away.
"And that's what I get the most," said Barry. "My guy retired, my guy passed away. Can you work on my '57 Chevy?"
Silverstone Motorcars founder Paul Flückiger confirmed that while the majority of his customers are local owners of only one or two cars, there are a few outliers.
"One of my customers has 37 cars," said Flückiger. "I keep telling him, sell some and buy fewer, nicer cars. And he says, 'yes,' then he sells six and he buys eight. He can't help himself."Before founding Silverstone Motorcars, which deals in storing, purchasing, selling or exporting automobiles ranging from modern sports cars to vintage exotics, Flückiger worked for years in the software industry. Always a "car guy," he said the business is something he wishes he started decades earlier. When asked if there was anything specific that drew him to the automobile industry, Flückiger replied instantly with a childhood memory.
"Definitely. I can remember driving 80 or 90 miles an hour down the road with my father with my head on the dashboard, standing up, going, 'Dad, go faster.' I loved going fast. I don't know what it was."
Until last year, Flückiger, 70, was racing cars at speeds of 150 mph in Daytona Beach, Fla., having picked up the hobby a decade ago in an unusual way.
"Just because of my age, my doctor said I need to go for a stress test," Flückiger explained.
While on a treadmill at his health care provider, the medical technician asked what he did for a living. It turned out that the technician was building a race car. One thing led to another, and what started as a stress test turned into an opportunity for Flückiger to realize a long held dream of racing.
When asked if he has any ideal future projects in mind, Flückiger replied that keeping the business rolling and helping Barry, one of a total team of three, to grow it further is his idea of a dream project. Flückiger founded Silverstone Motorcars around the time of the financial crisis of 2008, and shared some of the highs and lows of building a business.
"The easiest thing to do when you start your own business is to give up. It's the easiest thing to do," he said, adding that it could be tempting to go back to a job with a regular salary. But there are benefits to sticking it out. "I don't work for anybody. I'll say to my wife, how about going to Wyoming in August? And she'll say, well I've got to check this, I've got to check out that. And I just look in the mirror and go, how about going to Wyoming in August?"
Flückiger also had some advice to share for aspiring business owners. "Because I came out of the software business, my mind was always thinking it needs to be complicated. It doesn't. Find something that's simple."
Barry and Flückiger ended the conversation on the note that they're always happy to have people come by to see the cars for themselves.
"We're not really what you would call a retail outlet," said Flückiger. "We sell most of our cars online, but people do walk through the door. If you can help foster an interest in the hobby, particularly with younger kids, that's a good thing, I think."
Photos credit by Libby O'Neill